As believers in Christ, we want to live in a way that glorifies God. But, do you have to eat a Biblical diet to do so? Discover 10 expert tips for putting your faith into your food choices!
My head hurts as I walk up and down those endless grocery store aisles. My brain is so stuffed with knowledge it ceases to function properly. My thoughts are cloudy, I'm overwhelmed, and I'm ready to abandon my cart and run like I am fire out the front door.
I know what I "should" eat but then I also know what I "shouldn't" eat and the two often contradict. Trying to do what's best can be exhausting and frustrating for a rule-follower like me.
The simplest truth is, I am Christian and my number one goal in my life is to glorify God but… when it comes to health and fitness, what is a girl to do? Do I need to follow Biblical dietary laws?
This story is mine, before finding peace with food through my faith. And, you will find dozens of posts here at Grace Filled Plate sharing tidbits from my journey (I hope you have made yourself at home).
But, I also wanted to highlight some Christian health and fitness experts who have their own incredible takes on how to follow a Biblical eating plan. These tips are about so much more than what, how, or where you eat. These truths get to the heart of the matter!
What does it mean to have a Biblical diet?
See what these incredible ladies have to say about putting their FAITH before their FOOD choices!
Meet Becky Brown
I believe the character of God shows up in every area of our lives. In eating (and in everything else), I always think about the Fruit of the Spirit – love, joy, peace, patience, kindness, goodness, faithfulness, gentleness, and self-control.
God wants us to enjoy food, but we can't experience God's best for us unless that enjoyment is also balanced by patience and self-control, meaning we can't just eat cake whenever we feel like it!
When you're tempted to drown in guilt after an episode of overeating, remember His gentleness. Finding gratitude for healthy eating instead of feeling like it's an unnecessary evil that is being forced on me really changed my perspective.
---
Meet Barb Raveling
I think I put more faith in the process rather than the food choices. When I follow lifelong boundaries it's much easier to maintain my weight.
If I find myself gaining a few pounds, I know I can start meeting with God again to renew my mind and regain His perspective on the situation if necessary!
---
Meet Michelle Makela-Belo
I am a mom of a toddler. I work from home as a personal trainer, run our home, and I also coach and play volleyball. I do the meal planning, shopping, and cooking so my philosophy is to keep it simple and know that what I'm doing is enough.
For me personally, that means letting go of the control of being "perfect" with food and doing what I can to make us healthier.

My faith reminds me that I can use my knowledge of nutrition to buy healthier foods, but it doesn't have to look perfect. This is what I wish someone told me when I started to better our health: Start small. Take it one day at a time. And know that what you're doing is enough.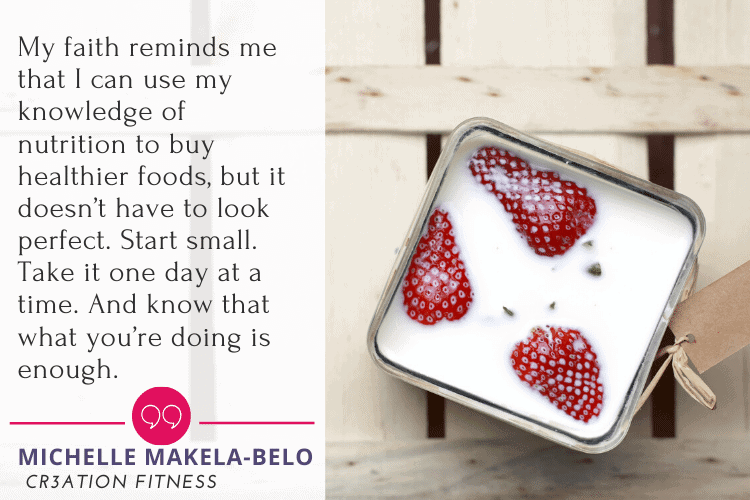 ---
Meet Sarah Forgrave
For me, staying connected with God through a daily devotional time is crucial. When I cut it out, I struggle in so many areas, including how and what I eat.
My devotions routine includes Bible study but also looks at my victories and goals. I write down goals for my spiritual life, relationships, and health. I share the full routine + a printable devotion sheet and prayer roadmap here.
---
Meet Lacy Ngo MS, RD
When I eat, I think about 1 Corinthians 10:31 which says, "So whether you eat or drink or whatever you do, do it all for the glory of God."
Keeping this verse in mind, I pray right before I eat, saying, "Thank you for this time that I have to sit and enjoy the food you have given me. I want to eat for the glory of You, God."
This little prayer has helped me so much. I enjoy my food, and I enjoy my time nourishing the body that God created. I focus on the joy I feel from eating in God's presence.
---
Meet Sara Borgstede
AUTHOR, SPEAKER & COACH AT THE HOLY MESS
My faith is an integral part of my eating now. It wasn't until I fully accepted God's grace and compassion that I was able to lose 100 lbs and keep it off. You can read more about my weight loss story here.
---
Meet Kimberly Taylor
My faith is foundational to my eating choices because of the identity the Lord has given me. According to God's word, I am a royal daughter (among many royal daughters and sons) who has joined her Father in the family business, which is saving souls.
So I make wise food choices that keep me emotionally stable and give me physical energy to meet the Spiritual demands of ministry. If I don't feel well, then I don't tend to do well.
Eating foods as close as possible to the way God made them helps me safeguard my health and fulfill my purpose. My eating powers my activity, so I strive to choose well. I can enjoy God, enjoy life, and enjoy food!
---
Meet Mark Young
PERSONAL TRAINER & NUTRITION COACH AT CHRIST-CENTERED FITNESS
I believe that we've been called to be stewards of our bodies so that we can remain physically able to do whatever God might call us to do. For that reason, I commit daily to staying within my nutritional target ranges and exercising regularly. Just as Paul aimed to discipline his body, I aim to do the same.
As Lysa Lysa TerKeurst once said, "I'm not on a diet. I'm on a journey with Jesus to learn the fine art of self-discipline for the purpose of holiness".
---
Meet Christina Grenga
HEALTH & FITNESS COACH & FOUNDER OF GRENGA HEALTH
If we look to Him for help with choices, He will provide it. What God won't do is take away our lesson… so ask for strength to make changes and to understand what changes you should make. God doesn't just take food from your mouth if it won't serve you, you have to want to make the change.
---
Meet Kristen Ekiss
SPEAKER, EDUCATOR, BLOGGER, AND COACH AT KRISTENEKISS.COM
I spent several years discovering which foods work best for my body. I've become so in-tune with my body that I know what foods I can eat and which ones make me feel icky.
When I eat, I think about where I've been called (being a wife, Mom, speaker, educator, Biblical Counselor) and I focus on eating foods that will help me to best glorify God in those areas. When I eat junk, I produce junk and even though my faith doesn't change, my ability to take action does.
---
Meet Candace Playforth
I truly believe God created everything we need to live a full and healthy life. When I choose foods that He made, those of the earth, I feel so much better in body, mind, and soul.
Those types of foods-fruits, vegetables, organic chicken, grass-fed beef…-energize me to where I can do the work He sets before me. When I fill my body with junk food, I'm exhausted and unable to fulfill my important duties like writing my testimony and sharing His gift of essential oils with others.
He gives us everything we need. When I remember this in my food choices as well, my days are completely transformed.
---
How to Start Your Biblical Diet Plan
Amazing Biblical eating plan tips, aren't they?
Our food choices are about so much more than "good" or "bad" foods. Our daily eating decisions can glorify God and draw us closer to Him.
However, hearing all of this great information on Biblical healthy eating can be a bit overwhelming. All the tips are great and you want to do all of them– now. And, when that happens, we turn His grace for living into just another diet.
Be wary of rules and laws brought on by your own enthusiasm and keep yourself focused on the heart of the matter–seek the Lord and ask Him how He would have you start. Then, focus there, rely on His strength through prayer and spending time in the Word.
One step at a time, with God navigating along the way and this journey, will far surpass any of your past attempts at change!
Brandice Lardner is a Certified Personal Trainer, Nutrition Coach, Amazon #1 Best Selling Author, Homeschool Mom, and Jesus Girl whose mission in life is to help women ditch the diet mentality and find peace with food and their bodies so that they are better equipped to do the great things God has called them to do.