Your faith AND health are precious to you. These posts will help you have a faith-filled diet!
Have you ever read a blog post and felt as if the author had crawled into your head? You wonder how they could possibly know exactly what you are thinking and feeling.
Reading the transparent words of others who have gone before us or who are in the trenches with us is inspiring. Knowing that we are not alone is priceless.
Each of these posts will touch your life and your heart in a different way. Be sure to PIN THIS POST to refer back to it later!
10 Blog Posts For a Faith-Filled Diet
1. 3 Reasons Most Diets Fail and How to Succeed by Kristen Ekiss
A former fitness competitor, Kristen gives you practical advice on how to make your health and fitness plans sustainable. Check out these smart fixes and doable action steps.
2. Why I Don't Believe In Forbidden Foods at So Very Blessed
Becky at So Very Blessed has lost 100 pounds and kept it off. In this post, she details how making all foods "legal" helped her weight loss journey. I also love Why I Stopped Eating Dessert at Night. This post shows Becky's non-diet mentality in action!
3. 5 Ways Not to Eat All the Candy, Cookies and Pie This Holiday Season at Compared to Who?
Don't let this title fool you. In this post, Heather from Compared To Who? shares 5 essential mindset tips that will help you moderate your food choices, to the glory of God, any day of the year!
4. Why It's So Hard For You to Lose Weight (and It's Not What You Think) at A Holy Mess
This post from Sara at A Holy Mess will challenge the way you think about your weight loss journey. If you are stuck and just "can't lose weight", this article is for you.
5. How to Handle Hopeless Eating by Barb Raveling
Have you ever thrown in the healthy eating towel because you were not seeing progress? This vicious cycle can be broken with the insightful questions Barb poses in this post. She'll help you find your faith-filled Bible diet.
6. Diets Don't Work. at Dashing Dish
Kate at Dashing Dish shares an insightful perspective through her story of finding her best help by stepping away from diets.
7. How to Fight Unhealthy Snacking at Desiring God
This post by Gavin Ortland takes an unconventional approach to changing how and why you snack. You've just got to check it out!
8. Here's Why Will Power Will Never Be Enough by Becki Johnson
In this post, Becki shares why Mr. Power (that's Will if you don't know him) cannot be our only source of strength.
9. Telling My Flesh No by Lysa Terkeurst
As the author of Made to Crave, Lysa knows a thing or two about saying "no" to our flesh. In this post, she discusses the power we find through fullness in Christ to overcome our cravings and desires.
10. How to Stop Overeating God's Way at Take Back Your Temple
Kimberly at Take Back Your Temple does an incredible job describing a Godly approach to changing our eating habits.
I have found these blogs posts to be all this and more. I hope you enjoy them and please comment below if there are any others you would like me to add to the list.
You can read more Faith + Food blog posts just like these here at Grace Filled Plate.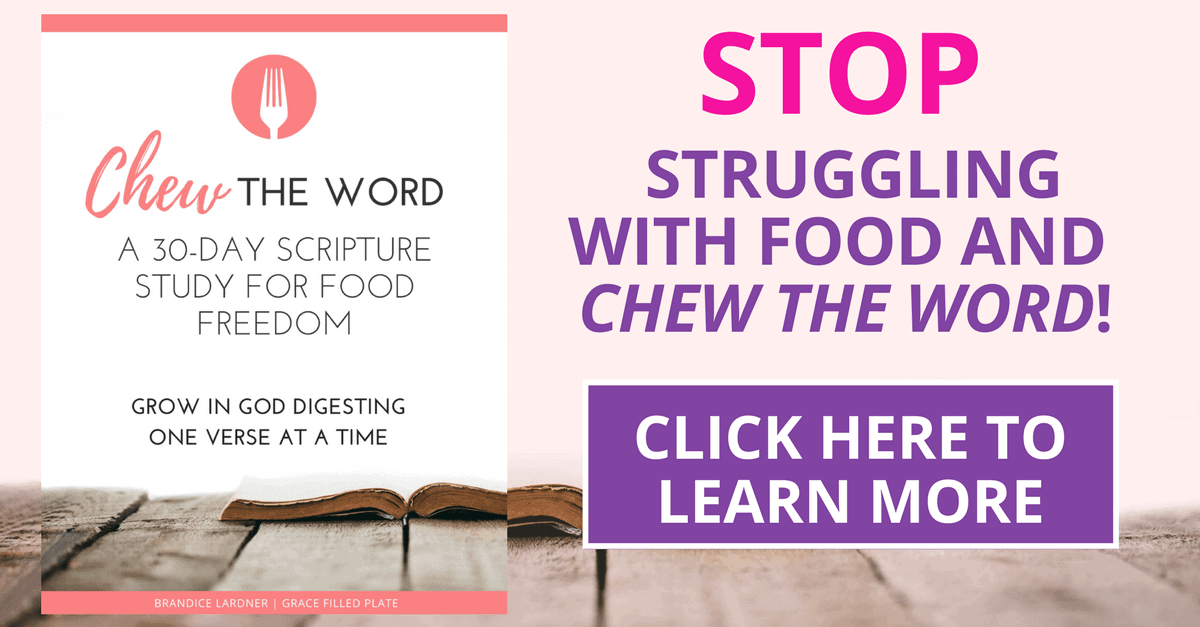 Brandice Lardner is a Certified Personal Trainer, Nutrition Coach, Author, and Jesus Girl whose mission in life is to help women ditch the diet mentality and find peace with food and their bodies so that they are better equipped to do the great things God has called them to do.