We eat and say a prayer for food but do we pray about how we eat and move?
I sat on the end of my bed, puzzled by the way things unfolded. I tried, I really did. What else could I do…
I slipped to my knees and asked God for direction. When my knees hit the floor, it was as if they'd sunk into the mud. I crumbled as I realized I'd neglected to bring my problems to my Almighty Counselor through prayer.
Prayer, I'll admit it's been a struggle for me. It is something I want to do consistently but when it comes down to it, I often forget to remember.
And there's more to it. I've often felt as if my struggles with food were either a) not that important in the grand scheme of things and b) something I should and could handle on my own.
I wanted to be a woman who prays…but, when I thought of praying, I imagined kneeling in my closet, alone, tightly clasping my hands, and making requests to God. While such visions bear a sweetness, they don't fully encapsulate prayer in real life.
What often happened with my food struggles was I'd wait to mention my request for help until I was deep in the trenches of temptation. Not that God won't and hasn't answered me from that place, but I longed for a better way.
A Very Present Help
What I needed was crisp practicality to put a prayer habit into practice in my daily life.
Because, after all, it's in the "daily" we need the most help. It's when you are face-to-face with the last piece of leftover pie or sunk into bed after hitting your snooze alarm when you had committed to workout.
Prayer is not limited to world peace or to a certain place. Nor is there a formula to follow for fellowship with our Very Present Help in Time of Need.
God loves us too much to limit our communication with Him.
"Maybe this, my friend, is why He has allowed food to be a struggle in your life."
So, what does prayer looking like when it comes to food and fitness? Let's dive in.
Prayer is Relational
God created us for fellowship. If you are a parent, you know the way your heart sings when your children want to be with you. When that little hand grabs yours– there is nothing better.
The term "prayer" may actually hinder our prayer lives at times, as it formalizes the moment when a child simply wants the company of their parent.
Yes, we approach our Holy God with respect, but our Perfect Father is both worthy of our awe and completely approachable.
Think of the person whom you love to spend time with. Maybe it's your best friend. The two of you just love to connect during a walk along the dusty trails of a park. You both speak, listen, and understand– and an hour passes in a minute.
In the same way, bring what's on your mind to God through conversation. Share what is in your heart and hear His voice respond.
Prayer is Powerful
The Bible is brimming with miraculous answers to prayer. No doubt we've seen God's hand move mightily at our request and yet, I have to question my own assessment of prayer.
After all, if I truly believed God hears and responds to my prayers, it would be the first place I'd go for problems of all sizes.
I can only chalk up our often churchwide lackadaisical attitude towards prayer to the work of the enemy. Why else would believers who trust in God shy away from prayer? I hope it's not you, but that can often represent me, and in those times, I need a refresher on the Power of Prayer.
God Moves Through Prayer
Prayer is Remodeling
While working as a personal trainer, I had a number of clients mention to me that they would love to hire me to follow them around each day. I'd shake them out of bed each morning and slap donuts out of their hands.
We envision that outside accountability is the key to success, but in reality, we need to change our minds before we change our behavior.
Prayer, talking to God, not only allows us to fellowship with Him and offers us extraordinary power– prayer allows us to reprogram our minds.
As we speak to our Heavenly Father, we hear the state of our hearts and it's often not pretty. The Holy Spirit brings a Bible verse to mind and convicts us of our sin. We see our need for God as we work through our most intimate concerns. We are remodeled and renewed.
We are changed BY prayer and IN prayer.
Prayer for Food and Fitness
I recall a conversation I had with a client–There was a woman at her gym whom she admired from afar. She was fit and fully dedicated to her workout regime. My client admitted to watching her, often with envy clouding her vision. That is, until one day they sparked a conversation and met for coffee.
We all have our areas of struggle.
You are probably here because your area of testing is health and fitness related. For others, it's shopping, relationships, or in the case of this "perfect" gym-goer–it's depression.
You are also likely here because you want to pray MORE about how you interact with food and move your body. The desire is there but you struggle to carry it out (Romans 7:8).
Here we will talk through some practical ways to empower your food life with prayer.
1. Dedicate Time for Prayer for Food and Fitness Each Day
If you want freedom, pray like it! It is so easy to feel like we are "praying" about something when really we only mention it in passing.
Set aside 5 minutes, every day, to pray specifically for revelation and freedom in this area. Say a prayer for weight loss. Anticipate potential trouble and ask God to help you walk in self-control.
Interact with Him, allowing Him to inspire you to godly action.
2. Prayer for Food and Fitness Through Scripture
Look up Bible verses specific to your challenges. A simple Google search will return dozens of verses on Bible verses on self-control, comfort, discipline, and freedom.
Then, don't just read them, talk with God about them. Allow the Holy Spirit to highlight words and concepts you can draw upon in times of testing.
Remember, He knows what lies ahead and He will prepare you a Word in due season.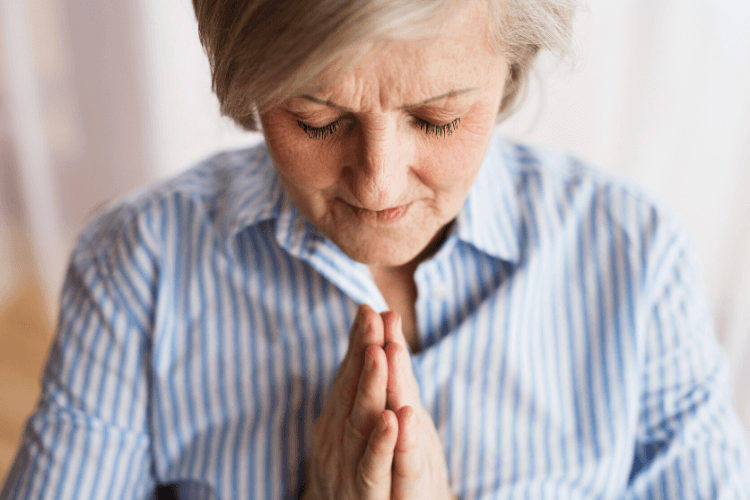 3. Prayer Before Food (aka Meals)
Since having a toddler, our mealtime prayers are pretty concise, but that doesn't mean I can't take a few moments to pray in my spirit, asking for the tools I need to have a God-glorifying meal.
Identify what it is you struggle with most during meal time and ask for help.
Maybe you need help slowing down, eating nourishing foods, or stopping before you're stuffed. Whatever it is, you can bet your bottom dollar that your Heavenly Father is listening and is there to help!
4. Prayer for Food Before Your Weak Hours
What time of day or situation constantly trips you up? For many, it's honoring their scheduled workout time, the afternoon slump, or making a beeline to the fridge after tucking the kiddos into bed.
These times, they don't magically "fix" themselves. What we need is a big dose of God's power and grace to overcome. As Jesus prayed, "lead me not into temptation" (Matthew 6:13), so too we can enter into those times primed for success.
Determine when you trip and dedicate yourself to praying BEFORE you enter that zone. Then use this time to blast some praise music or meditate on a verse that was seared into your spirit earlier that morning (see how it works?).
Find Your Freedom Through Prayer for Food and Fitness
As you read through these points, did you see any areas you could grow in your prayer life? Whether you move into more freedom by becoming more relational in your time with God, or you set aside a dedicated time to ask for help, your efforts will be rewarded.
Review the blog post. What points pierced your heart? Is there ONE practice that really stands out to you? Start there.
Schedule what matters. If you want or need to be at a certain time and place, you put an appointment on your calendar. Whether you jot this "date" down on a paper planner or set an alarm on your phone, your intentionality here will make all the difference.
Practice, with grace. Give this focused prayer priority, but when your intentions fall flat, meet that human mistake with grace. He sees your heart and will be touched by your focus to try, again.
Download your Prayer for Weight Loss Printable.
In time, we can learn to hit our knees first, to visit the Father who wants to hear from us and to ultimately find flow in our health and fitness.
Brandice Lardner is a Certified Personal Trainer, Nutrition Coach, Amazon #1 Best Selling Author, Homeschool Mom, Classical Conversations Tutor, and Jesus Girl whose mission in life is to help women ditch the diet mentality and find peace with food and their bodies so that they are better equipped to do the great things God has called them to do.