Jump to this episode's show notes now.
How do you pray for weight loss? Is there a prayer for weight loss that will inspire you to make healthier choices that glorify God? Download your free printable prayer here!
I'm not sure if I really meant those words as I prayed them…I knew there were far more "important" things in my life and certainly outside my front door.
But, I couldn't help but say a prayer for weight loss, hoping (no–begging) God to take this struggle away from me.
Maybe you can relate? Maybe you've found yourself confused about your actions and desperate for an answer to your weight-loss struggles.
"You've tried it all, all you can do is pray."
Prayer, it's something we believe is effective, and yet, for many of us, our actions say otherwise.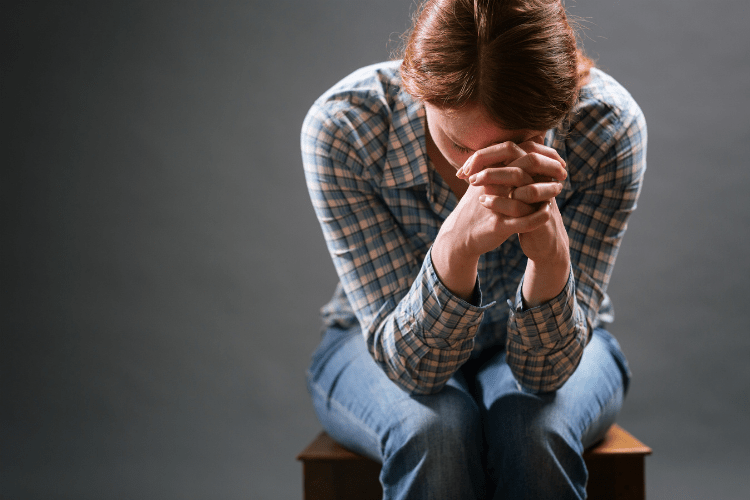 Why Do We Pray?
This may seem obvious but it's worth digging into this question further.
Prayer is essentially talking to God, although we often picture it as very formal, with a start and a finish (more on that below). And, in many cases, it is…
We pray over our Bibles for our day to go smoothly, over our dinners for the happiness of our family, and as we pass that plate of gooey cookies, once again.
Often we have an agenda and yet it's so easy to overlook the relational aspect of prayer. God created us to be in a relationship with Him and that can only happen through communication.
You're on the way home from Wednesday night church and you call your best friend to talk about some unexpected drama from your day.

As you heard yourself speak, you suddenly saw your circumstances more clearly. It was as if the jumbled mess of spaghetti in your head, once spoken, unraveled and made a lot more sense.
Imagine how much more effective it is to talk through our thoughts with the All Knowing One? In talking with God, our thoughts and feelings begin to line up with His. And when we talk and listen, we can know what God says about losing weight.
I love this quote from Mark Batterson:
"The primary purpose of prayer is not to change circumstances; the primary purpose of prayer is to change us! But either way, the chief objective remains the same: to glorify God in any and every situation."
Prayer is not about us and because of this, it'll be helpful to discuss "how to pray." Faith-based weight-loss prayer or not.
How to Pray for Weight Loss
I'm such an avid rule follower that I can't remember ever leaving a cart outside of its corral. Rules are good but there are some areas in our lives where rules really muddy things up.
Food is one for sure. Our relationship with God is definitely another.
I share this to tell you that these suggestions are just that. Please don't look at them as rules or even something you should do. Rather, read through the points and see if the Holy Spirit prompts you to try something new.
1. Pray Scripture.
The Word of God is living and powerful (Hebrews 4:12) and it will not return void.
So shall my word be that goes out from my mouth; it shall not return to me empty, but it shall accomplish that which I purpose, and shall succeed in the thing for which I sent it.

Isaiah 55:11 (ESV)
One of the most effective ways to pray for weight loss or anything we need is to use Bible verses that speak directly to your situation.
Look up Bible Verses for Weight Loss. You can pray them as written, add in your name when fitting, or journal an inspired prayer. It builds our faith knowing that our requests are built upon the promises of God and that He's listening to answer prayers that are in line with His will (1 John 5-14:15).
2. Pray Continually.
We know that our relationship with our spouse would dry up if we only spoke from 6:15-6:30 am each morning. Yet, that's what we tend to do with our Heavenly Father. Then we wonder why our conversations feel dry.
As I mentioned above, God wants to talk to us throughout the day. The One who created cells so intricate and galaxies so vast we can not comprehend them wants to speak to you, my friend.
Rejoice always, pray without ceasing, give thanks in all circumstances; for this is the will of God in Christ Jesus for you.

1 Thessalonians 5:16-18
Praying without ceasing. Pray intentionally for food and fitness. Pray with no end. Always pray.
Praying continually is much easier than you think. Do you have that endless mind chatter that is constantly trying to short and solve every problem that comes your way?
Yeah, me too.
I've found great relief from that exhausting incessant babble by shifting that monologue to a dialogue–with God.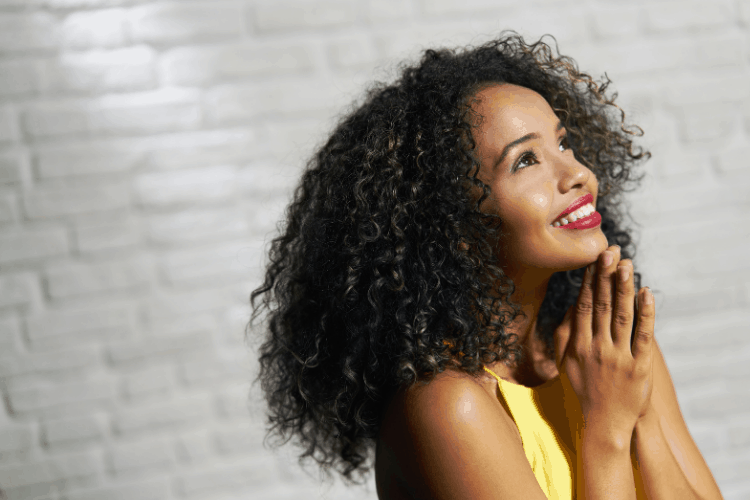 Of course, we want to be respectful of the holiness of God, but we also see some examples throughout scripture of godly men and women who just talked with Him. No formalities, no fluff.
3. Don't Forget to Listen.
There are a million reasons to love our God and one of them is what a gentlemen He is. He doesn't push, prod, or speak over us. When we're praying, we may miss His still, small voice (1 Kings 19:11-13) if we don't stop talking (or thinking).
When you're praying for God's grace, take some time to be quiet and listen to what feels like your "gut" or intuition. The Spirit speaks to our spirit but our minds need to hear those promptings.
And, don't worry if you're unsure if it's you or God. Simply make sure that what you're feeling lines up with the Word and then apply what's impressed upon your heart. Over time, you'll build confidence in your ability to listen and hear.
Don't Pray for Weight Loss
I know, it seems as though I've lost my mind, but stick with me. This revelation will truly help you move forward.
Why would you say weight-loss prayers?
For many of us, we see weight loss as the solution to our problems. Oftentimes, thanks to the media, the promises of losing weight are that of a fairytale.
If only we were thin we'd be…
…confident enough to pursue our dreams,
…energetic enough to accomplish all we desire,
…and attractive enough to finally feel lovable.
These desires often live under the surface and we brush over them in favor of weight loss. Yet, losing those pesky pounds won't solve our apathy or self-hate. We need to get to the heart of the matter.
What is it that you really and truly need in your life today to walk in the fullness of the grace and love of God?
What is the real answer to your real problems?
When weight loss becomes an idol and more important than our faith, we're sunk because we keep focusing on the wrong problem. It's not the weight that weighs us down…
It's the why behind why we eat more or move less than we need. It's the reason we're stressed and sleep-deprived. "It's" what God needs to fix.
So, don't say a prayer to lose weight.
Say a prayer for healing and hope– so that you can treat yourself in a way that leads to shedding that emotional baggage (that will ultimately lead to a change in your body).
A Prayer for Weight Loss
Here I'd like to include a Christian weight loss prayer that gets to the root of the issue. There's nothing special about the prayer itself. Rather, its power comes from the scriptures it contains and the genuineness of your heart when you pray it.
Look beyond the black and white and try to make a spiritual and emotional connect with the words.
How Do You Pray for Weight Loss?
Heavenly Father, I thank you that your ears are attentive to my prayer and that you care about the details of my life.
I praise you because you have known me before I was born and you formed each and every part of me with a purpose.
I worship you because your love and grace for me are as vast as the universe that you hold in your palm.
I come before you with open hands— open to receive what you have for me and to give away that which you've made me ready to give up.
Today, I rest in your mercies that are new every morning. I leave my struggles, failures, and even victories behind me as I rejoice in this day you have made.
I ask for your Holy Spirit to lead me in all truth today, that you will allow me to hear His voice saying "this is the way, walk in it."
I pray that today you help me walk in self-control and discipline in how I eat. Lead me not into temptation with food and protect me from the enemy.
I thank you that if I should encounter a test, you will uphold me or make a way of escape. Help me to see it.
Most of all, I ask for your grace that is sufficient and your peace that surpasses understanding. May it guard my heart and keep me from seeking comfort outside of you.
In Jesus' Name,
Amen
1 Peter 3:12 | Luke 12:7 | Jeremiah 1:5 | Philippians 2:13 | Lamentations 3:22-23 | Psalm 118:24 |John 16:13 | Isaiah 30:21 | Galatians 5:22-23 | Matthew 6:13 | 1 Corinthians 10:13 | 2 Corinthians 12:9 | Philippians 4:7
How Do You Pray an Effective Prayer to Lose Weight?
So, what do you do with all this now? We often feel motivated after listening to a sermon or reading a post like this, but then life gets in the way. It is important to have a plan in place to make change happen. Here are my suggestions.
Download the Prayer for Weight Loss Printable below and print out 2 copies. You may also want to download a screenshot to your phone for easy access when you're away from home.
Place one in a prominent place and put the other with your Bible.
Read the prayer for weight loss at least once per day.
During your Bible reading time, review the verses and consider writing a prayer of your own. Use verses that the Holy Spirit brings to mind, verses that fill you with joy, peace, and confidence in the hand of God.
Podcast episode show notes
You know prayer is effective and you trust that God hears your requests. But when it comes to weight loss, exercise and dieting, you just don't know what to say.
The Bible has given us simple truths to enlighten our prayer life. So in this episode, you'll learn how to look beyond your diet, motivation, health, and fitness, and come to the Creator to ask for what you truly need to be healthy.
Links mentioned:
You may also enjoy:
Get a FREEBIE:
Rather watch? Catch the video on YouTube.
Brandice Lardner is a Certified Personal Trainer, Nutrition Coach, Amazon #1 Best Selling Author, Homeschool Mom, and Jesus Girl whose mission in life is to help women ditch the diet mentality and find peace with food and their bodies so that they are better equipped to do the great things God has called them to do.