Jump to this episode's show notes now.
Searching for a Christian diet plan? You may be missing out on ONE important truth from the scriptures we don't often associate with diets- tithing! Learn how God has provided us with a tool to find greater health and food freedom through our faith.
Back when people actually read the newspaper and two words were not automatically scrunched into one (doesn't it seem like it should be farside?), there was a sickly hilarious cartoon that was published in the Sunday news. The Far Side.
There was one in particular that made my dieting, overeater brain chuckle uncomfortably.
At the kitchen table sat an overweight man, only his billowing belly separating him from an almost empty plate. Below him was a dog who tracked his every bite, hoping and praying for just the thinnest morsel. With resolve, the man pokes his final bite with his fork and, in his stuffed state declares that he will force in just "this… one… last… bite".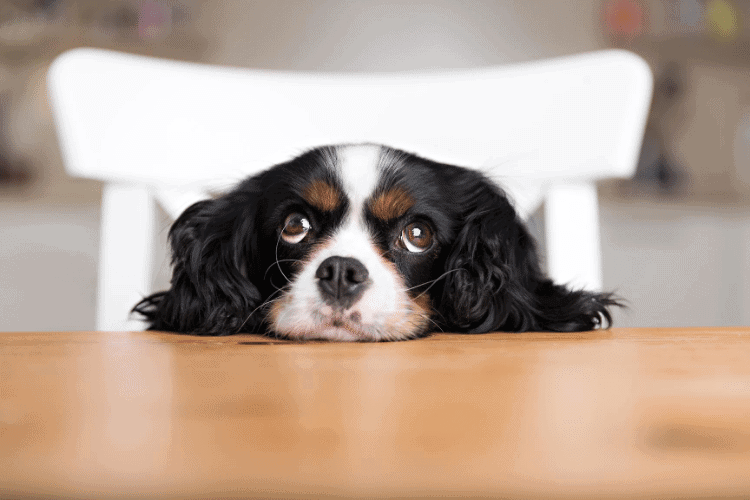 The Clean Your Plate Club, it's real. I know because I am a card-holding member whose natural tendency is to leave no soldier behind.
I joined The Club in the wake of a diet where I was only "allowed" certain foods in certain amounts. If I were granted permission to have it, you can bet I was going to eat it.
Maybe you can relate. Maybe you grew up in a family where you were forced to eat every last bite on your plate. Or, finances were tight and you had to fight for sustenance.
Regardless of how you obtained your gold card (or platinum), cleaning your plate is an unhelpful practice for those looking to live a fit and healthy lifestyle.
And, if your faith is near and dear to you like it is to me, I have an interesting concept to introduce you to how to eat a "Christian diet plan."
Tithing in the Bible
From Old Testament writings to New Testament stories, the topic of tithing, or giving 10% of your income (back to) God is hard to miss.
The idea is that ALL we have ultimately belongs to God. Any wealth that we do possess is because He gave it to us. As an act of obedience, we are instructed to give a tithe or 10% back to His church.
When we honor this admonition we poise ourselves to be blessed (Malachi 3:8-12).
While the promises in the Bible are generally related to income (first fruits), I believe we can also apply this principle to other areas of our lives.
If you are struggling financially, it is important for you to honor God's principle of tithing so that He can bless your finances.
When you enter a difficult season of life, tithing the first moments of your day to Him in weight loss Bible study, weight loss prayer, praise, and meditation would bear fruit that multiplies.
There is power in pushing past our comfort zones, stepping into faith, and giving up the very thing it seems as though we are earthly dependent on.
Food Focus in the Christian Diet Plan?
Do you feel like food holds a "too important" place in your life or that the Clean Your Plate Club has a mafia hold on you?
Then it is time to consider tithing bites!
I cannot think of a more powerful way to sow seeds for food freedom than choosing to set aside that which captivates us and yield it to our God.
What is Tithing Bites?
If someone lets you borrow their bicycle, you gladly give it entirely back– tires, handlebar, and painfully small seat. The bike wasn't yours to begin with and you are happy to return it, grateful for the loan.
Tithing bites simply means giving God a portion back of what He has already given you. We say grace at meals and thank the Lord for our food, but do we truly comprehend that ALL we have on our plates comes from His hand?
This is an exercise in acknowledging just that with a greater purpose in mind– the fruit of obedience.
Your journey in tithing bites will be individual, so pray for the Holy Spirit to guide you. Here you will find a few suggestions to get you started, in order of challenge from easiest to hardest.
5 Ways to Tithe Bites
1. Leave it off. When serving yourself, plate your normal portion and then scoot a few bites back off. Easy peasy.
2. Push it aside. Serve yourself your normal portion and then push 10% off to the side, not to be touched.
3. Eat the best and forget the rest. Pick out several bites that are less-than-awesome and skip them. Tossing the wilted lettuce and burnt edges that you don't love to begin with is a win-win!
4. Dedicate the best. This strategy is for when you are serious about making strides forward. Pick your most favorite bites and dedicate them to God. Wrap them in a napkin or prop them on your plate so that you can admire your trophies of victory.
5. Pass on the snack. Avoid mindless grazing and tithe those unnecessary bites. If you find yourself scrounging for food when you are not hungry, stop with intention, dedicating your efforts to God.
Keep a Good Great Attitude
Most of all, do so cheerfully. The victim's mindset is for victims. You, my friend, are choosing to push the food aside for the greater calling on your life.
You must each decide in your heart how much to give. And don't give reluctantly or in response to pressure. "For God loves a person who gives cheerfully."

2 Corinthians 9:6 (NLT)
Yes, I know it's just food but every sacrifice done in the name of Jesus, matters.
And whatever you do in word or deed, do all in the name of the Lord Jesus, giving thanks to God the Father through Him.

Colossians 3:17 (NKJV)
Getting Started
If the idea of leaving food on your plate or tossing it in the trash makes you really uncomfortable, feel free to start "small." It is not the size of the gift, it is the cost of it. One bite for you may require more faith than a dozen bites for someone else.
Then, progress through the 5 steps. You may use different methods on different days and that's fine. The important thing is to keep those efforts focused above.
So whether you leave one soldier, two, or 10% of your "army" or every 10th meal behind, you are poised to find greater health and food freedom as you step away stop overeating by detaching from external cues that lead to more food being eaten than necessary. What follows is great health and a more trusting relationship with your Savior!
Comment below and share YOUR Tithing Bites story!
Podcast episode show notes:
As a Christian woman who desires to live by God's Word, you know all about tithing. Maybe you even tithe your income and the first few minutes of your day to God. But what about tithing your food? Yes, your food!
Far from being difficult, weird, or wasteful, it's a fun and unique way to eat less while honoring God. And it even comes with extra benefits: greater health, food freedom, and a more trusting relationship with the Lord.
Dig in now for 5 practical ways to tithe your bites back to God.
Links mentioned:
You may also love:
Get a FREEBIE:
Brandice Lardner is a Certified Personal Trainer, Nutrition Coach, Amazon #1 Best Selling Author, Homeschool Mom, and Jesus Girl whose mission in life is to help women ditch the diet mentality and find peace with food and their bodies so that they are better equipped to do the great things God has called them to do.