The world says being thin and beautiful is most important. What does the Bible say about putting our appearance first? Learn about the idol of weight loss!

Those who cling to worthless idols forfeit the grace that could be theirs.

Jonah 2:8 (NIV)
Copyright © 1984 by International Bible Society
This verse describes literal decades of my life. At the age of 14, I was whisked away by dreams of becoming what the 90's said was the pinnacle of value- I wanted to be a (super) model. And I wasn't alone. From Twiggy to Cindy Crawford, generations aspired to have the look of what the world deemed as "ideal."
Appearance has been touted as the be-all, end-all and we have all taken the bait, hook, line, and sinker.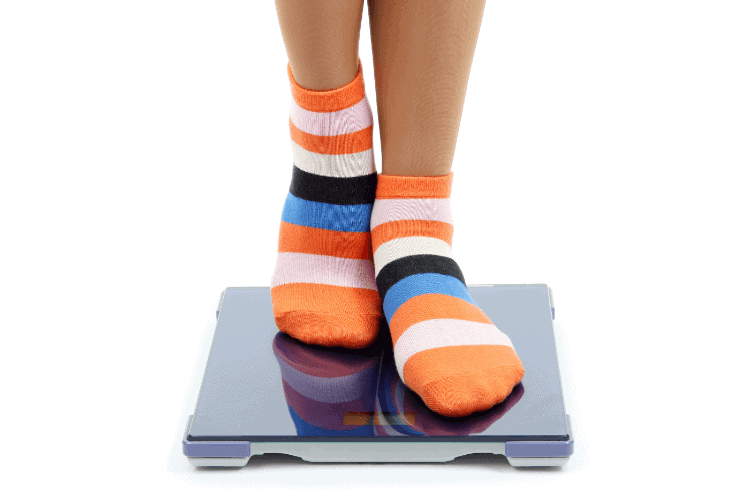 And if how we look is #1, how much we weigh follows suit.
In the first-world, we are obsessed with thinness and food all at the same time. We diet to fit the societal ideal but deprivation leads to even more food focus. And the cycle continues.
We literally can't win.
Those Who Cling
That was me. The years I spent with anorexia, bulimia, and overeating left me heavier and unhappier than ever.
Then, in 2009, I had the privilege of meeting with a personal trainer who gave me so many reasons to exercise. He taught me more than simply how to lift weights up and down. He taught me how weight lifting benefited me, what muscles I was working, and why all this effort even mattered.
The gym went from boring to a blessing. And, I decided to become a personal trainer.
As my career developed, numerous clients asked for help with their diets. I did my best to meet their needs, providing diet plans that detailed when, what, and how much they would eat. But…
The meal plans didn't solve their problems.
Food plans, for the most part, don't change our relationships with food. My clients didn't need to be told how to lift their fork from plate to palate. What they needed was someone to show them how to eat better today than yesterday. And then do it again.
Professionally and personally I embarked on a journey of habit-based coaching. Which, in essence, means– make one small, sustainable change at a time.
And, it worked in my life and in the lives of my clients! Not only did we reach our goals but we got (and stayed) there healthier and happier than ever. It was sweet.
Problem, Not Solved
But my heart was still idolatrous. I had reached what I considered the pinnacle of body composition without the extreme measures I had taken in the past.I was lean, fit, and felt competent to teach because I looked the part.
Something was wrong though– I wasn't well. 3 years of pregnancy hopes were left unfulfilled due to my leanness. My other systems were in stress as well, leaving doctors to wonder if I had Crohn's disease and adrenal fatigue.
I knew what I needed to do but, could I?
Worthless Idols
In Isaiah 44 we read about the futility of idols. As if we are peering in from an outside window, we read about a man who created his own object of worship.
This craftsman planted a tree and nurtured it until the day he takes an ax to the roots and chops it down. He uses some of the wood to warm himself with a fire and bake bread.
And the rest of it he makes into a god,
His carved image. He falls down before it and worships it, Prays to it and says, "Deliver me, for you are my god!"

Isaiah 44:17 (NKJV)
It is hard to miss the worthlessness of this idol, and yet, our lives also nurture and form ideas and objects we hope will save us.
My idol was (and still competes to be) having a culturally attractive appearance. Something God seems to care very little about.
The world, it focuses on the outward appearance while God cares about our hearts (1 Samuel 16:7). Even Christ himself was not adored in external attractiveness and yet, He possessed true magnetism.
My servant grew up in the Lord's presence like a tender green shoot, like a root in dry ground. There was nothing beautiful or majestic about his appearance, nothing to attract us to him.

Isaiah 53:2 (NLT)
When we make our lives about something so UNimportant to God, we miss out on a divine partnership.
Forfeiting Grace
Have you struggled to implement healthy changes in your life? Do you long to lay aside food and body image issues but you just can't seem to do it?
If so, what you need is GRACE.
When we cling to worthless idols, we forfeit the mercy we need the most (Jonah 2:8) It is no wonder why we struggle! To find supernatural strength, we need to align our desires up with God's will.
You ask and do not receive, because you ask amiss, that you may spend it on your pleasures.

James 4:3 (NKJV)
Just as when we pray God-centered prayers He hears us, so when we pursue God-centered goals He assists us!
And, that is what I did…
Doing Scary Things
I knew in my heart of hearts God prompted me to lay aside that which I clung to and surrender to His will by gaining weight.
When I did, something amazing happened. Although I like to boast that weight gain was "hard," it was not nearly as emotionally difficult as I feared.
"Why?" you say. Because God's grace showed up in a BIG way.
After adding 15 pounds, my body's systems regulated and I became pregnant just two short months later.
Tell me, do you think it was worth it?
The thing I held on to with clenched hands was the very thing that made me miserable and robbed me of the blessings God had for me and my family.
And, let's be real– it is scary and even terrifying to let go of those dreams that have kept us in waiting for so many years. We may even wonder who we are without them.
But, that which seems to be our identity has stolen it. In Christ, we have a high calling which far exceeds a six-pack. It is waiting for us but we have to search for it.
Choosing God Goals
Here's where it gets really exciting! When our "why" lines up with the kingdom purpose we become unstoppable. If we lay aside our prideful ambition, God honors the sacrifice and blesses us for it.
When His priorities become our focus, this whole health and fitness thing gets a lot easier.
If our motivation is to eat in such a way that we can better serve our husband and children, eating an unplanned cookie doesn't "ruin" those goals.
Perfectionistic, all-or-nothing eating fades and our decisions become more about being on a road rather than a tightwire.
When your purpose for going to the gym is to be mobile and strong to serve the Lord, getting out of bed isn't just about burning 150 calories on the treadmill. It is far more motivating to see the big picture of living a fit life.
This reframe will invigorate your efforts!
Making the Switch
Now that you see why it means so much to align purposes with God's will, it is time to dig below the surface and see what your God-goals are!
Download your Overcoming Weight Loss Idols Worksheets below

and print out two copies.
Set aside 15 minutes to spend some time with God.
Prepare by praying for God to show you where your heart is.
Answer the questions to the best of your ability and set aside some time to revisit the worksheet in one week.
Brandice Lardner is a Certified Personal Trainer, Nutrition Coach, Amazon #1 Best Selling Author, Homeschool Mom, and Jesus Girl whose mission in life is to help women ditch the diet mentality and find peace with food and their bodies so that they are better equipped to do the great things God has called them to do.