The Best Christian weight loss books that put your faith in your food and exercise choices!
My heart smiles as I run my hand across the crisp, smooth pages of my new diet book. I had eagerly awaited the hum of the UPS driver coming to deliver this latest attempt to find the plan that would solve all my food problems.
But, it was never that simple.
If you are a Christian and you have found yourself struggling to lose weight or to find balance in your relationship with food, you are not alone. My work and ministry are helping women just like you, your sister, and your neighbor who seems to have it all together.
It is easy to feel like a failure when it comes to diet and exercise.
We know that we "should" be able to experience complete freedom by reading our Bible and diligently praying, but we haven't gotten there.
Something is missing… but what?
Is a Christian Weight Loss Book Your Answer?
I will be the first to say that I 100% believe that there is unlimited freedom available to us through the Word and prayer. However, if you are a little thick-skulled like me, you may benefit from some additional resources. Resources that help to pave your way to the Godly wisdom.
(This blog uses affiliate links. As an Amazon Associate, I earn from qualifying purchases. Please see my full disclosure here.)
Below you will find several Christian weight loss books and a weight loss Bible study that I have found to be helpful over the years. Remember that these books are not our answer- Jesus is!
However, if we can wash our minds with Biblical truth from every direction, we will only be better for it.
Keep in mind– each of these books has bits and pieces that I (or you) may not completely agree with and that's ok. As Christians, we have been blessed with the indwelling of the Holy Spirit to help us discern that which is right for us.
What is right for you may not be what is right for me and vice versa. Don't get caught up in what you disagree with– look for the nuggets of truth for your life (Satan would LOVE to steal those gems from you!) and implement them with His strength to find the best diet for you.
The Best Christian Weight Loss Books
1. Grace Filled Plates
Grace Filled Plates: Ditch Diets and Find Food Freedom Through God's Grace by Brandice Lardner (yes, that's me) made it to the top of the list because I'm most passionate about the message in its pages: It's not about you, you'll never be perfect, and those imperfections are just an opportunity for the glory of God to shine like a city on a hill.
Each day, you'll get a short and powerful teaching and a practical action step that you can take right away!
2. Love to Eat, Hate to Eat
Love to Eat, Hate to Eat, Breaking the Bondage of Destructive Eating Habits by Elyse Fitzpatrick is one of my all-time favorite Christian weight loss books. Elyse targets the state of the heart when it comes to food, above all else.
Rather than providing a checklist of what to eat, she provides a spiritual checklist to review at each meal. Questions such as, "Does this particular food demonstrate a heart of independence?" and "If I eat this, will it create an inroad for sin?" are used to examine our motives.

Elyse does recommend finding a healthy eating plan, although there are very few specific recommendations (I like that!).  This book is a great fit if you want to really target your heart issues with food, and overcome overeating.
3. Uncommon Vessels
Uncommon Vessels, A Program for Developing Godly Eating Habits by Elyse Fitzpatrick is a study guide based off many of the principles from Love to Eat, Hate to Eat. This book has a helpful introduction and 40 daily studies.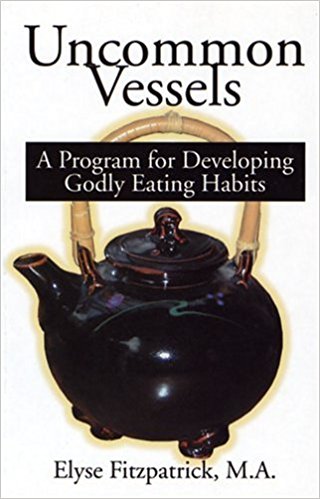 If you are anything like me, this book will take you much longer than 40 days to go through. Each of the scriptures and questions are so convicting and thought-provoking that you can't help but camp out on them for a bit.
There is a Daily Diary for recording your food choices which may be a helpful tool for some.
4. The Wellness Revelation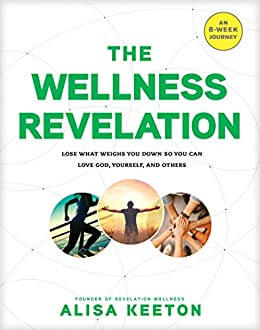 The Wellness Revelation: Lose What Weighs You Down So You Can Love God, Yourself, and Others by Alisa Keeton teaches you how to be well so that you can help others. This book dives deep into mental, emotional, and spiritual reasons you may cling to food and gives you the tools you need to move past those dependencies.
This book is more of a workbook with interactive exercises to keep you focused and purposeful in your journey.
You will find some solid instruction on how to eat better without a bunch of rules that weigh you down. There is also a free online resource library with tracking sheets, workouts, and more.
5. Thin Within
Thin Within, A Grace Oriented Approach to Lasting Weight Loss by Judy Halliday, R.N. and Arthur Halliday, M.D covers a little bit of everything helpful. A 30-day Christian weight loss program, Thin Within marries intuitive eating with a solid scriptural base.
You will spend most of your time focusing on how you eat, not what you eat. One of the coolest tools is an hour-by-hour hunger graph that takes the guesswork out of listening to your body.
If you are looking for a solid scripture-based Christian weight loss program that will connect you with your physical body, Thin Within is going to hit home for you.
6. Made to Crave
Made to Crave, Satisfying Your Deepest Desire with God, Not Food by Lysa Terkeurst is one of the most well-known Christian weight loss books to date. And, for good reason. Lysa's conversational writing draws you in, making reading not only beneficial but fun.
A strong emphasis is placed on noticing your cravings for food and directing those cravings to God. If we are turning to food for anything other than sustenance, we can learn how to let God take care of it.
Lysa shares a bit about her diet but does recommend that you find a plan that works for you. She later went on to write more about the specifics of her eating program. I found those teachings less beneficial.
You may also want to check out the Made to Crave Devotional, Video Series and Workbook.
7. The Beck Diet Solution
While not specifically a Christain weight loss book, The Beck Diet Solution, Train Your Brain to Think Like a Thin Person by Judith S. Beck, Ph.D. is an excellent accompaniment to any study or plan you decide to follow. Dr. Beck is an expert in what is called Cognitive Behavior Therapy or CBT, which is basically a psychological term for renewing your mind.
The book has several chapters of explanation and the 40 daily studies with a topic and task for each day. I have taken groups through this book and all of the participants found it to be hugely beneficial.
You'll learn about important behaviors, the benefits of eating slowly, and examine negative thinking traps that may trip you up on your healthy eating endeavors. Now or later, you'll definitely want to check it out!
Learn more about the companion workbook.
8. Chew the Word
Chew the Word by yours truly, Brandice Lardner here at Grace Filled Plate, is a scripture study designed to help you find your best "diet" practices through the Word of God, for yourself.
Each week you will study 5 hand-picked verses through a 6-question study process that will teach you how to find your personal application on how to eat and move– God's way. You'll wrap up each week with weekly reflection where you tie a bow on the gifts God has given you throughout the week.
Visit this post to get a free Christian weight loss Bible study PDF.
More Christian Weight Loss Books I Recommend
Reader Recommendations
These are books that I have not read but have been shared with me by readers as their "must read" books!
But, Before You Buy a Christian Weight Loss Book:
As you can see, there are quite a few quality resources to supplement our faith-based health and fitness efforts. These are not "bibles"– They are books written by humans that can teach you godly tools for your journey.
Keep an eye out for your tendency to look to outside sources for solutions and use these as supplements to your spiritual "diet." And, don't feel like you have to do it all– rather, be led by your peace, the voice of the Holy Spirit.
It is that simple.
Are there any books that I did not include that you recommend? If so, please drop me a line, I'd love to check them out!
Brandice Lardner is a Certified Personal Trainer, Nutrition Coach, Amazon #1 Best Selling Author, Homeschool Mom, and Jesus Girl whose mission in life is to help women ditch the diet mentality and find peace with food and their bodies so that they are better equipped to do the great things God has called them to do.