When you think of Bible verses about food, what comes to mind? While the Word of God gives us direction on what to eat, the power is found in its how. Caring for our body is important because how we eat also reflects the state of our hearts. Here you will find help from the Bible that's not just another "diet."
You want to be the woman God has called you to be but… your health is holding you back.
You're ready to lose weight, to be vibrant and strong so you can do great things for God but… you don't know how to get there.
You want to know what the Bible says about food but… you're looking for more than a food list.
The Bible contains everything we need for life and godliness, including how and what we eat. While there is no "diet," you will find principles that set the stage for great physical and spiritual health.

Through the Word of God and these Bible verses about food, you will learn how to care for your body and, most importantly, your heart.
10 Bible Verses About Food (When You Are Sick of Diets)
If you've tried every diet under the sun, but you still find yourself struggling with negative thoughts toward food, these Scriptures about food are just what you need to encourage you on your weight-loss journey!
1. Matthew 4:4 (ESV) But he answered, "It is written, "Man shall not live by bread alone, but by every word that comes from the mouth of God.'"
Jesus had just endured 40 days of fasting in the desert and now He found himself being tempted by the devil. The first enticement was that of Eve–to satisfy His appetite outside of the will of God.
But, Jesus knew where true life and satisfaction were: in the Word of God.
No matter what a restrictive diet tells you to eat or not to eat, there is only one "food" that can fill your every craving. Eating less becomes easier when our spirits are filled with Christ.
---
2. 1 Corinthians 6:12 (NLT) You say, "I am allowed to do anything"—but not everything is good for you. And even though "I am allowed to do anything," I must not become a slave to anything.
Diets preach "good" and "bad" foods, but God tells us that ALL food is acceptable. However, just because something is allowed does not mean that it is good for us.
Diets cannot reign in our hearts. Rather than getting stuck in food guilt, prayerfully ask your Heavenly Father what He would have for you.
Then your body, mind, and spirit will be their best!
---
3. John 6:27 (NLT) "But don't be so concerned about perishable things like food. Spend your energy seeking the eternal life that the Son of Man can give you. For God the Father has given me the seal of his approval."
The fastest way to increase your desire for a certain food is to make it "off limits." In fact, off-limit foods can consume our thoughts when we are on a diet. If food rules are causing you to spend your precious energy on things that are truly not that important to you, then consider how you can shift your focus to the things of God.
---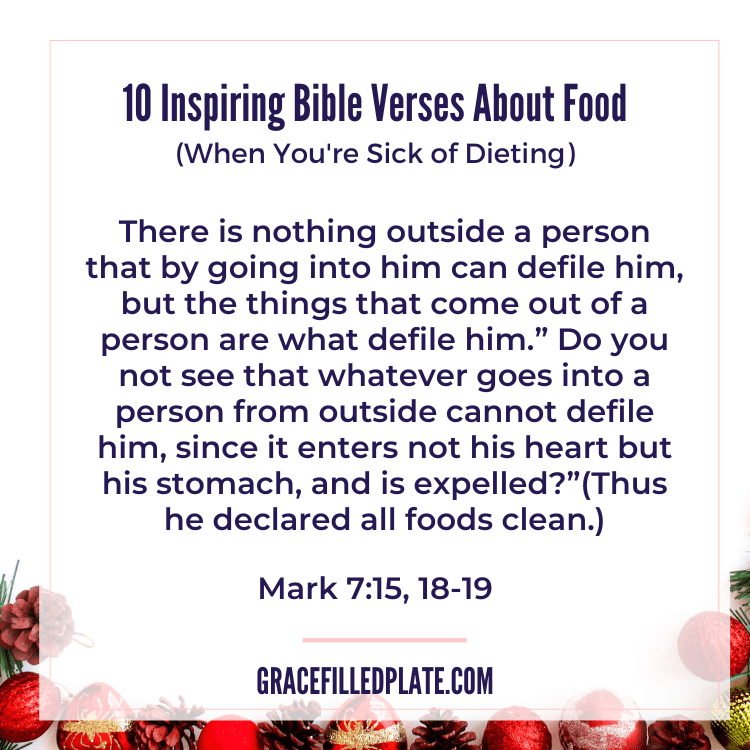 4. Mark 7:15, 18-19 (ESV) "

There is nothing outside a person that by going into him can defile him, but the things that come out of a person are what defile him.

 

Do you not see that whatever goes into a person from outside cannot defile him,

 

since it enters not his heart but his stomach, and is expelled?"

(Thus he declared all foods clean.)
"I was so bad yesterday, I ate (fill in the blank)." Have you ever felt like a criminal for eating something you weren't supposed to? Is unhealthy snacking your arch nemesis?
Ok, maybe I am being a little dramatic but you get the point–
Those of us who have been stuck in the diet cycle can start to measure the value of our days and ourselves based on what we eat. This is NOT how God does it. Rather, by examining our hearts we can change from the inside out, as a clean heart will lead to God-glorifying food choices.
---
5. Matthew 6:25 (ESV) 

"Therefore I tell you, do not be anxious about your life, what you will eat or what you will drink, nor about your body, what you will put on. Is not life more than food, and the body more than clothing?

"
Making sure we are fed is NOT our job. When we put God first, He will provide for our needs. There is no point in being anxious about your diet when He can see the big picture. Rather than stress eating, pray for His will and follow His peace.
After all, you are more valuable than anything in this world to Him.
---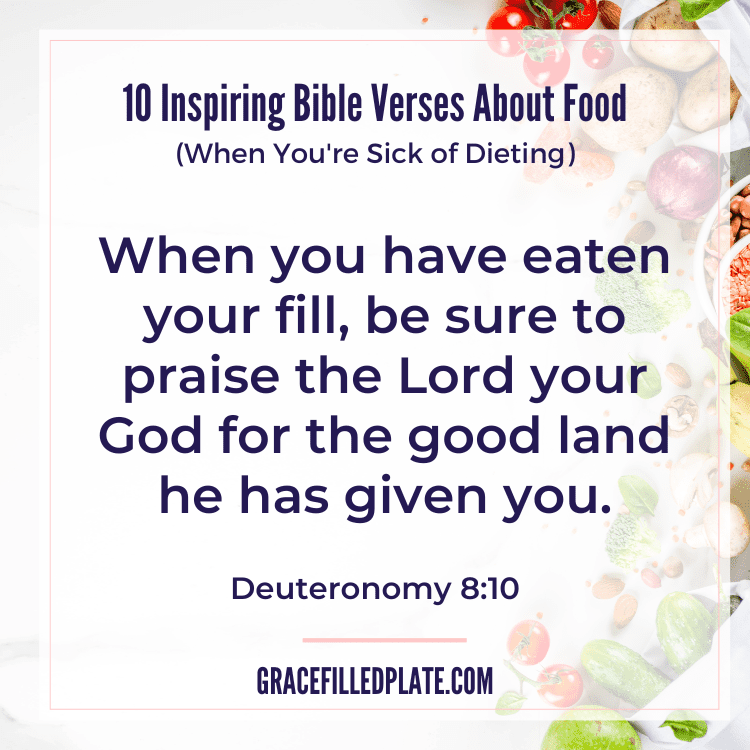 6. Deuteronomy 8:10 (NLT) When you have eaten your fill, be sure to praise the
Lord

your God for the good land he has given you.

When diets dictate our portion sizes, those tiny plates can be painfully unsatisfying, both physically and mentally. In fact, feeling deprived can feel like a constant state.

How much easier would it be to walk away from the table if you ended your meal by praising Him for all He has given you. If we are accustomed to overeating, then we may often long for more than we need. But when gratitude takes center stage–walking away from the table is much easier.
---
7. John 6:35 (ESV) Jesus said to them, "I am the bread of life; whoever comes to me shall not hunger, and whoever believes in me shall never thirst."
I find it humorous in the age of carbophobia that in this scripture about food, Jesus calls Himself the bread of life. Diets that ban bread cause us to long for it with even greater desire. But there is One who can satisfy us even more than a freshly baked loaf.
The question is, will you let Him? Only by eating The Bread through spending time in His Word, communicating in prayers about food, and just hanging with Him in your daily life, can you find that true satiety.
---
8. 1 Corinthians 8:8 (ESV) Food will not commend us to God. We are no worse off if we do not eat, and no better off if we do.
One of the best things you can do for your life and diet is to stop equating your value with your performance. You will never, ever follow an eating plan perfectly, and to expect yourself to do so is to set yourself up for disappointment.
Grace is the antidote to the yo-yo. When you fall down, when you slip up, when you decide to eat that second donut even though you know it's a really bad idea, God is still there and He still loves you to bits.
Stop the cycle, ditch the all-or-nothing eating, and jumpstart your progress!
---
9. Acts 10:15 (NLT) But the voice spoke again: "Do not call something unclean if God has made it clean."
God has explicitly told us that there are no "off limits" foods. And while you may choose not to eat certain foods, it is not our place to judge others for their food choices.
If you find yourself grading plates, turn your gaze from horizontal to vertical. All food is good but it all may not be good for you.
---
10. John 4:32, 34 (ESV) But he said to them, "I have food to eat that you do not know about." Jesus said to them, "My food is to do the will of him who sent me and to accomplish his work."
How would our lives change if we put doing God's will above all else (especially food)? If we can see our bodily appetites as temporary, the urgency to meet those needs fades in the light of eternal purpose.
Now, I am not at all suggesting that we arbitrarily go without food but that we prioritize real food. How can we do that? Consider giving up one thing for Him and put your affection where your mouth is!
How You Can Use These Bible Verses About Food
Now that you have some great Bible verses on food to chew on, what's next? It's time to put these truths to work!
Follow these 3 steps to get started:
Review the Bible verses about food and choose ONE to study and meditate upon. Follow your gut here (the voice of the Holy Spirit).
Download your Faith Meets Food Bible Study Template below and get your God-given personal application!
Looking for more? Check out these 10 Bible Verses posts:
Brandice Lardner is a Certified Personal Trainer, Nutrition Coach, Amazon #1 Best Selling Author, Homeschool Mom, and Jesus Girl whose mission in life is to help women ditch the diet mentality and find peace with food and their bodies so that they are better equipped to do the great things God has called them to do.