If you are a Christian who finds yourself eating too much, these Bible verses about overeating will give you HOPE for change. There is no condemnation–it's God's grace that will transform your relationship with food.
It's a bad relationship–you want out but you keep going back.
It does you more harm than good but yet–you forget this when it matters most.
You love and hate it at the same time.
Overeating. It's a habit you're convinced God wants you to overcome. But, it has felt nearly impossible to find the power to break the chains when you don't know where to start.
You know the Word of God has the power to change your relationship with food, but you need some help applying it…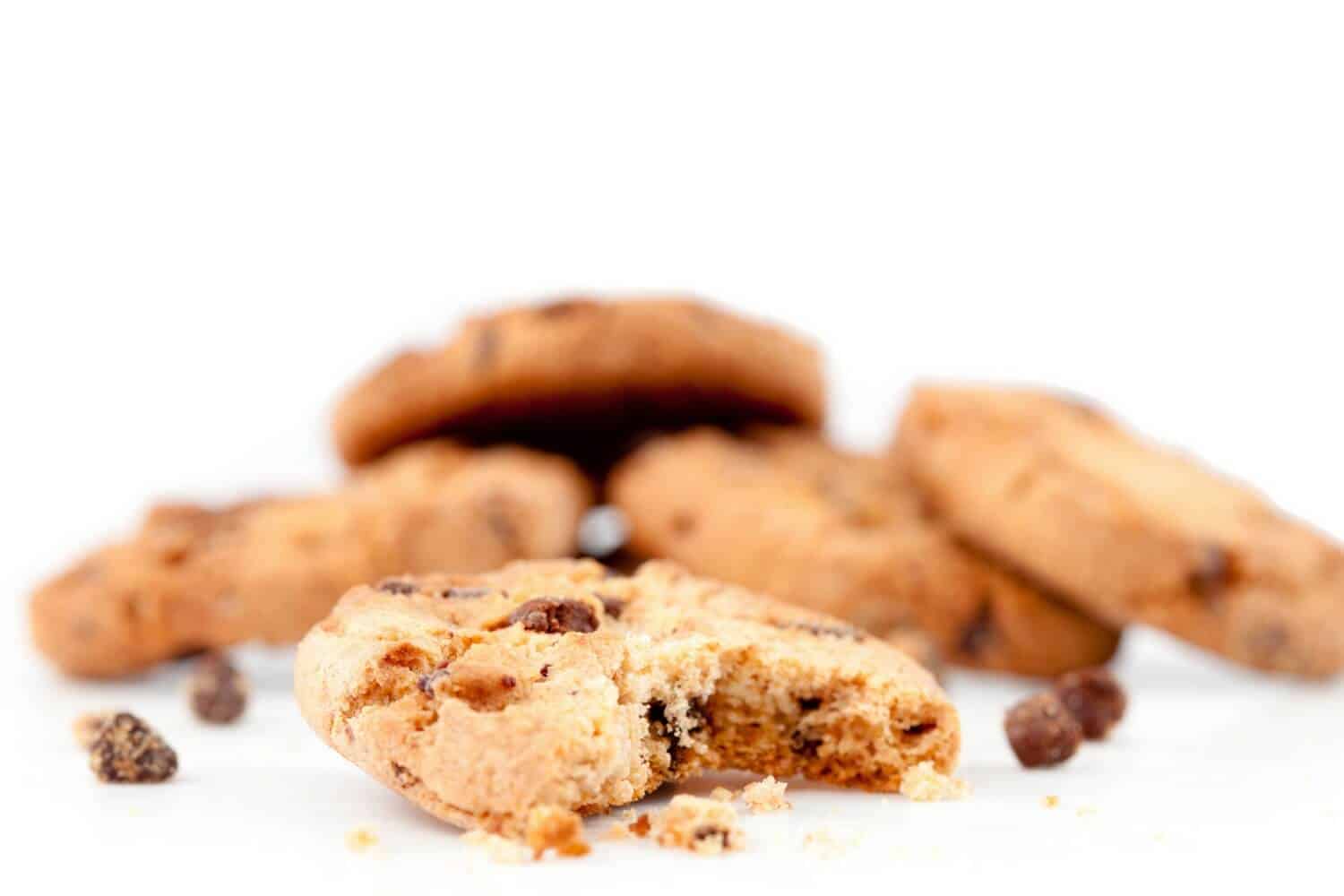 What does the Bible say about overeating?
Here you'll find 10 Scriptures about overeating that have helped me in my own journey. I'll share personal application tips that you can put into practice right away. More freedom is closer than you think!
10 Bible Verses About Overeating That Will Give You Victory!
The Bible offers us help in every area of our lives–and that includes Bible verses that talk about eating too much! If you're struggling with overeating and gluttony, these Bible verses for binge eating give you hope to find freedom!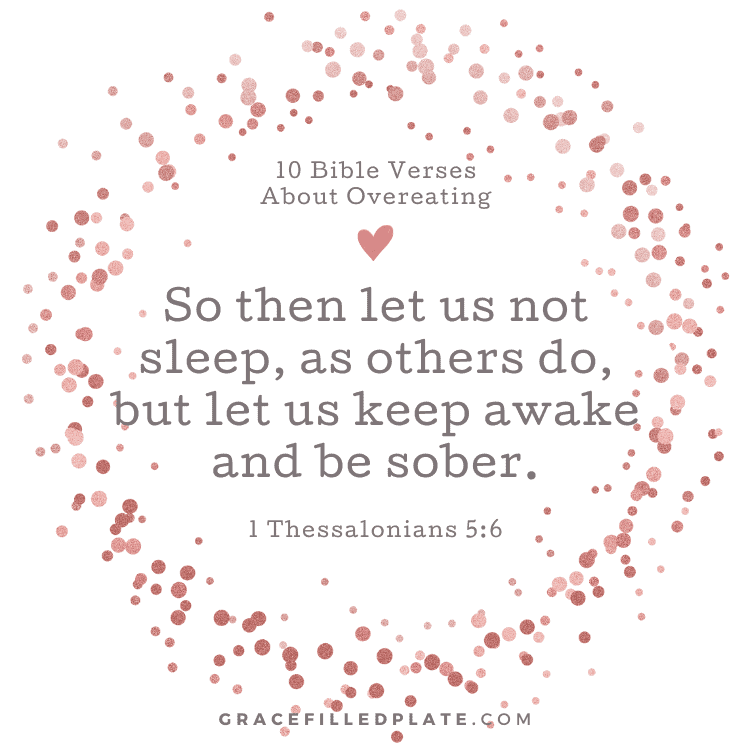 1. 1 Thessalonians 5:6 (ESV) So then let us not sleep, as others do, but let us keep awake and be sober.
"It's just a little extra."
"It's only food."
"My bad habits could be worse."
It is easy to justify overeating as the "pardonable" sin. Especially, when church events are centered around all types of unhealthy food. However, we are warned in this verse to not turn a blind eye to these behaviors because they will ultimately affect our relationship with God.
---
2. Matthew 5:6 (NIV) Blessed are those who hunger and thirst for righteousness,

for they will be filled.
We will hunger and thirst, no doubt. It is what we choose to fill those physical, emotional, and spiritual hungers with that matters most. Then we could stop binge eating.
How can you hunger and thirst for righteousness in response to your desire to overeat? What if those pangs of hunger served as a cue to seek God?
---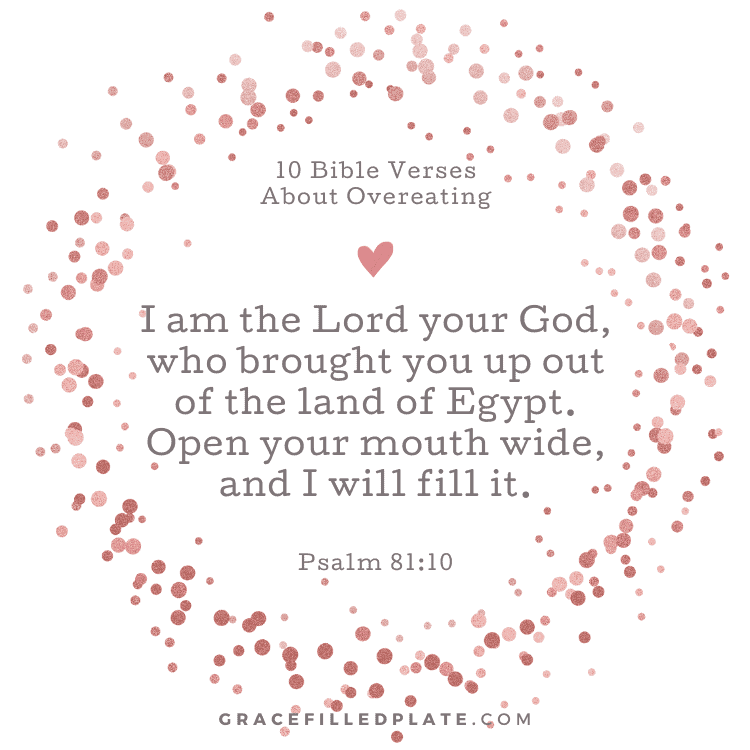 3. Psalm 81:10 (ESV) I am the
Lord

your God, who brought you up out of the land of Egypt. Open your mouth wide, and I will fill it.

God has done great things! The One who miraculously delivered thousands of Israelites out of Egypt is asking to fill your empty spaces. No matter what struggles you face, no matter what cravings you have, HE can meet those needs.

But, just as the Israelites had to step out in faith and walk in obedience, we need to make ourselves available to His overeating help.
---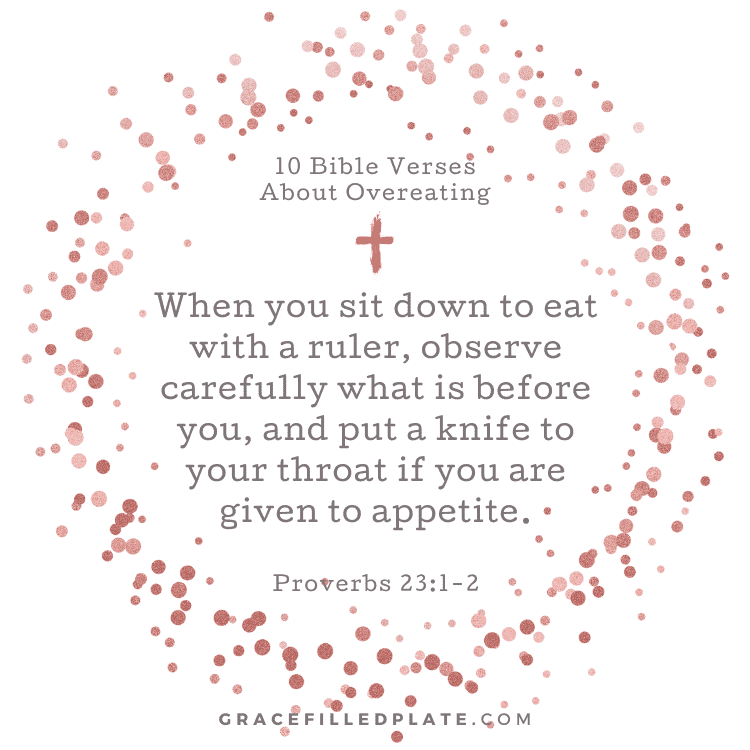 4. Proverbs 23:1-2
(ESV)

When you sit down to eat with a ruler, observe carefully what is before you,

and put a knife to your throat

if you are given to appetite.
Let's be honest, this verse sounds a little scary! However, notice how important it is to keep our appetites in check. If our cravings and desires get out of control, they can put our spiritual and physical lives at risk.
Rather than glossing it over as "just a little overeating problem," we need to be honest with ourselves about what these habits truly cost us. Then, He can help us stop overeating.
---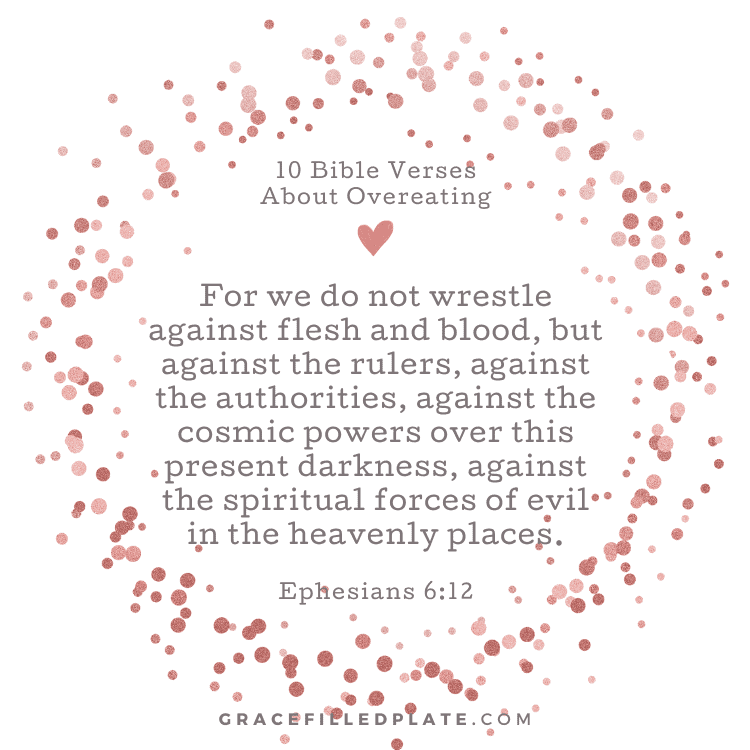 5. Ephesians 6:12 (ESV) For we do not wrestle against flesh and blood, but against the rulers, against the authorities, against the cosmic powers over this present darkness, against the spiritual forces of evil in the heavenly places.
Your struggle with overeating is not about the seen but the unseen. You are not fighting you, your family, or the fast food industry. Rather, there is a spiritual battle happening right now, even if you don't acknowledge it.
The enemy will use overeating to sideline the call of God on your life.
We are wise to take our overeating problem seriously–to seek God's solution through His Word (reviewing these scriptures about overeating) and His power through prayer.
---
6. Psalm 145:15 (ESV) The eyes of all look to you,

and you give them their food in due season.
How would your relationship with food change if you looked to God for His provision? While most of us are fortunate to have more than enough food, we can turn our eyes upward as we make our eating decisions.
"Lord, what would you have me to do?"
---
7. John 6:27 (NLT) But don't be so concerned about perishable things like food. Spend your energy seeking the eternal life that the Son of Man can give you. For God the Father has given me the seal of his approval.
It is difficult, if not impossible, to seek fleeting food and everlasting life simultaneously. You can use this to your advantage–rather than fighting the desire to overeat, search after and pursue things above.
---
8. Colossians 2:20-21 (NLT) You have died with Christ, and he has set you free from the spiritual powers of this world. So why do you keep on following the rules of the world, such as, "Don't handle! Don't taste! Don't touch!"?

Although it may surprise you, food rules are often the cause of overeating! Like so many, maybe you've tried to "fix" your problem by going on a diet or eliminating certain foods. While these practices may be helpful IF they are led by the Spirit, they can also be part of the problem.
Unnecessary restrictions can lead to added stress and rebound eating. Do not take worldly advice about overeating as truth–seek God, do an overeating Bible study, and find out what He has for you!
---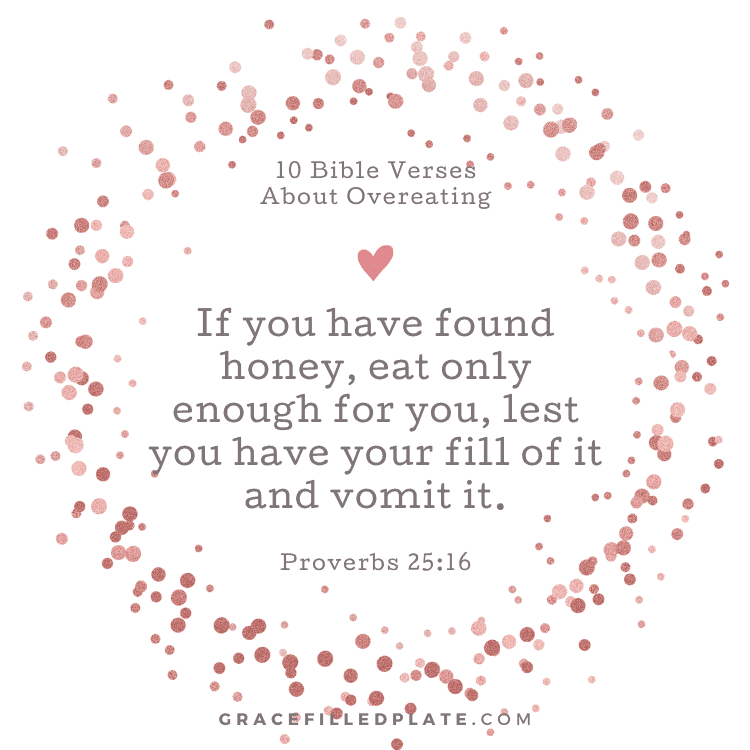 9. Proverbs 25:16 (ESV) If you have found honey, eat only enough for you, lest you have your fill of it and vomit it.
When your hearts are hungry, it's difficult to moderate your food portions (especially when it comes to sweets!). Have you figured out your "just enough"?
Here in Proverbs, we are encouraged to eat within our body's needs. While this may feel impossible at times, God is there to help us be obedient to His Word.
---
10. 1 Thessalonians 5:23 (ESV) Now may the God of peace himself sanctify you completely, and may your whole spirit and soul and body be kept blameless at the coming of our Lord Jesus Christ.
It is God who does the great work in us. And, He does so with great peace. If there is unrest in your battle with overcoming overeating, know that God's ways are the way to make you whole.
---
Start Overcoming Overeating by Faith
So, what do you do with all this insight? It's important to put these Bible verses on overeating into practice! We want to move past simply hearing the Word to DOING the Word (James 1:22-25). Here are a few steps to get you started:
Download the Bible Verses to Overcome Overeating devotional cards below and print them out (ideally on cardstock).
Cut out the "Bible verses about overeating" cards and place them around your home. Toss one in your wallet, tape one to the bathroom mirror, and definitely attach one to your fridge and/or kitchen cabinets.
When temptation hits, grab your "Bible verses for overeating" cards and flee the scene! Remove yourself from the temptation and pray that God will strengthen you. Then crowd out those food thoughts with a verse!
Looking for more? Check out these 10 Bible Verses posts:
Brandice Lardner is a Certified Personal Trainer, Nutrition Coach, Amazon #1 Best Selling Author, Homeschool Mom, and Jesus Girl whose mission in life is to help women ditch the diet mentality and find peace with food and their bodies so that they are better equipped to do the great things God has called them to do.