Can you have a healthy mom lunch when you're always busy? Use these tips from a health coach to eat healthy lunches every day!
The little pink plate held a spoonful of cold corn, the rubbery stalks of little broccoli "trees," and the drying end of a cheese stick that was beginning to turn from opaque to chalky white. "Do I eat it?" I asked myself.
I used to scrape leftovers into the trash. But now, with a toddler, I occasionally find myself neglecting a real meal and settling for what our little one didn't finish.
Have you ever counted that which was not fit for a meal as your "meal" and then wondered why you incessantly craved chocolate and chips in the afternoon? If so, you are not alone. Busy moms everywhere neglect their own needs in the name of keeping their home running smoothly.
However, the investment of making a tasty meal is well worth the time, if you want to be the best for your kids and if your health and weight-loss goals are important to you.
By eating delicious food in a quality and quantity that actually satisfies your body and your taste buds, you will feel more energetic, have fewer cravings, and set an example for your children that teaches what no lecture on healthy eating can.
RELATED POST: How to Have a Healthy Breakfast (even when you are a busy mom on-the-go!)
I am excited to share these tips and recipes for lunch ideas for busy moms with you. Here you will find tactics that can fit into your life so that you can truly ditch the "Clean Their Plate Club"!
Tip #1: Start With What You Enjoy.
To inspire your selection, think about foods that you love–lunches that you could eat every single day. Don't consider how healthy or unhealthy your faves are. Brainstorm (this shouldn't take long!) and then consider how you could make these eats easily and stay supportive with your goal.
Just about any meal can be made more nourishing. You'll see a great array of these ideas below.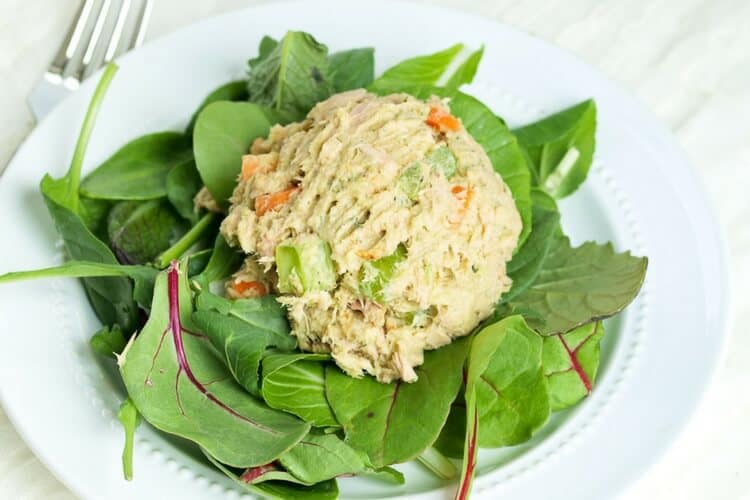 Tip #2: Make Friends With Leftovers (If You Despise Them).
I'll admit it, I hate leftovers. This is a rather inconvenient preference for a busy mom. No matter your stance of yesterday's food, there is a way to make leftovers work for even the hesitant. Here are a few tips to get you started:
Start with cooking a double batch of your favorite dinners. You are cooking anyway, why not make provision for tomorrow's lunch. If it's a meal you really enjoy, be sure to cook up enough for 2 additional meals.
Cook a double batch of protein. Some meals do not reheat well, but simple protein selections such as poultry, pork, and beef will serve as an excellent starting point for lunches. Add chicken to a pre-mixed salad; slice up steak for a wrap sandwich; add diced turkey to a can of vegetable soup.
Chop but don't cook. While chopping veggies the night before, do some additional knife work so that you have the components of a healthy dish, ready-to-go. I will often saute pre-cut veggies and pre-cooked protein for a quick lunch. Serve 'em alone or in a wrap.
As you see, you can use your dinnertime prep as a time to prepare for lunch without relying on leftovers!
Tip #3: Prepare A Big Batch Ahead Of Time.
Another option to keep a healthy lunch in your line of sight is to prepare several days' worth of a big-batch friendly recipe. Soups and salads are great examples. And, if you are not leftover adverse, anything goes!
Doing your prep on the weekend works well. Then you may want to piggyback your lunch prep onto a mid-week dinner to get you through the second half of the week. Over time, you'll become more organized and can double up your preparation efforts. For example, grilled chicken for dinner AND for your quinoa salad.
Big Batch Recipes
These lunch ideas for busy moms are perfect to cook once and enjoy all week!
Tip #4: Stock Up Quick & Easy Meals.
I do my best to keep a few key items around the house that are delicious and easy to make on the fly. We often think that tasty means time-intensive, and yet one of the most loved and consumed sandwiches in the world consists of just 3 simple ingredients.
Quick & Easy Meals
Canned Vegetable Soup: Add diced chicken or beans & fresh spinach.
Pre-Made Salads: Add leftover protein, if needed.
A baked potato topped with cottage cheese, diced tomatoes, and Italian seasoning.
And, yes, our favorite peanut butter and jelly! Use sprouted grain bread, natural no-sugar nut butter and pure fruit jelly.
Opt for items that have a decent shelf life without being overly processed. You'd be surprised how you can freeze just about anything! We keep all of our baked goods and wraps in the freezer so that we always have them available, but do not have to use them up right away.
Tip #5: Keep It Simple.
You have complete and total permission to have a meal that doesn't look like "lunch." Just make sure that you enjoy it and that it keeps you satisfied. When planning your plate, do your best to include 3 things:
Protein: beans, eggs, meat, dairy, tofu, etc.
Carbohydrate: starchy veggie, fruit, potato, grain or bread.
Vegetable: eat it ALL!
Whether those 3 components are included on a flatbread pizza (chicken, flatbread, diced peppers, and broccoli) or separated onto a plate (hard boiled eggs, whole grain crackers, hummus and carrot sticks), it doesn't matter. If simple works in your world, go for it!
Making A Healthy Mom Lunch Happen (In Real Life)
So now that you have some ideas, how do you make them come to life? To get started, follow the steps below. While they won't fix your blah lunch problem overnight, in just a few weeks you'll find your groove and will be happily munching on healthy midday eats!
Look over the tips above. Chose ONE tactic that feels reasonable for your life. Think about how you would like to implement this change. How often would you like to have a prepared lunch? Does that feel like a goal that you can accomplish next week?
Start small. Listen to your gut–if it feels like too much to do right now, it probably is. Scale back your plan until it feels 100% doable to you. This may look like making a double batch of dinner once a week or stocking your fridge with 3 components of a throw-it-together meal.
Look at your schedule. Determine when you will plan, shop, and (possibly) prep.
Practice, observe and tweak. Try this new approach on for size and determine what is and is not working for you. Modify and repeat.
Your life is busy and eating a healthy lunch doesn't always make it on your to-do list. In the past you may have felt like preparing a midday meal was overwhelming, but now you see that there are some small steps that you can take.
While it won't be instantaneous or effortless, it will be worth it. Eating a balanced meal will help you feel your best, physically AND mentally, as you eat foods that you enjoy and truly take good care of yourself!
Brandice Lardner is a Certified Personal Trainer, Nutrition Coach, Amazon #1 Best Selling Author, Homeschool Mom, and Jesus Girl whose mission in life is to help women ditch the diet mentality and find peace with food and their bodies so that they are better equipped to do the great things God has called them to do.