Discover the 10 Principles of Intuitive Eating for Christians with this scripture-packed guide.
If you're sick of dieting, tired of hating the way you look, and longing for peace with food and your body, you're not alone! And more importantly, you have hope.
Not the false hope of salvation by weight loss sold to you by diet culture, but the true hope of abundant life that Jesus came to give you.
That's right, there is a better way forward than dieting and it's filled with faith, freedom, and truth. There is a way that you can ditch dieting for good and actually become healthier! It's called intuitive eating.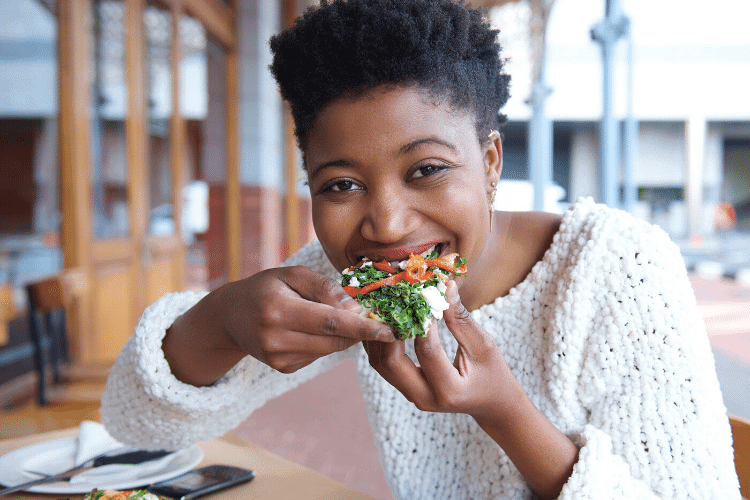 What Is Intuitive Eating?
Intuitive Eating was developed by Evelyn Tribole and Elyse Resch who first published their book Intuitive Eating: A Revolutionary Program That Works in 1995, beckoning readers to "Make Peace with Food, Free Yourself from Chronic Dieting Forever, Rediscover the Pleasures of Eating."
The two authors are prominent dietitians and they developed Intuitive Eating in response to a common problem so many of their clients had: feeling stuck in a cycle of yo-yo dieting.
Most of us have experienced yo-yo dieting, where we buckle down for a quick-fix diet to drop a few pounds, only to gain it all back (and usually more) as soon as the diet ends and we loosen up. So we have to start all over again and the cycle continues.
I was stuck in this all-or-nothing eating cycle myself for nearly two decades. I tried every diet, wore every pants size, and never got it right.
But in the early summer of 2017, the Lord dropped Intuitive Eating onto my path, so I began listening to podcasts about it and I read the book for myself. I was fascinated with the idea of Intuitive Eating because it resonated deeply with me and spoke to my soul.
In early August 2017, I had a literal "Come to Jesus" moment where the Lord showed me dieting was an idol in my life and I needed to lay it down. I said "yes, Lord!" and then understood why I'd been learning about Intuitive Eating for the last several weeks. My journey of following Jesus not diets began that day.
Here I am over two years later singing the Lord's praises for setting me free from dieting. Now I'm blogging about Intuitive Eating so that other women can find the freedom and peace with food that has changed my life.
Besides the book itself, Intuitive Eating is an anti-diet approach to food and health. Intuitive Eating fundamentally rejects diets, food rules and intentional weight loss.
Rather than looking to external factors (like diets) to tell us when, what, and how much to eat, Intuitive Eating teaches us to look to the internal wisdom of our own bodies to guide us in our eating choices.
10 Principles of Intuitive Eating For Christians
Let's examine the 10 principles of Intuitive Eating, specifically from a faith-based perspective, so you can begin to get a sense of the depth in this anti-diet framework and see for yourself how these principles align with scripture.
Christian Intuitive Eating Principle #1: Reject the Diet Mentality
The first principle of intuitive eating lays the foundation that diets can't and don't live up to their promises. If you keep buying the lie that thin equals happy, you will never break free of diets.
As Christians, we have to recognize and reject the lies of diet culture as worldly wisdom, at best, and as spiritual warfare, at worst. With eyes of faith, we can call it out for what it truly is: a false gospel of salvation by weight loss.
These lies are designed to distract us from our God-given purpose and steal our lives with dieting. As believers, we must reject the lies of diet culture and replace them with biblical truth.
Do not be conformed to this world, but be transformed by the renewal of your mind, that by testing you may discern what is the will of God, what is good and acceptable and perfect.

Romans 12:2 (ESV)
Christian Intuitive Eating Principle #2. Honor Your Hunger
The second principle of intuitive eating teaches us to listen to our body's hunger cues (not diet rules or even what our own judgment says) and eat when we are hungry.
We know God created our bodies in His image and it is a good design. Because we trust God, we can trust our body signals. It is safe to listen to our bodies; He created them! So we can stop judging our hunger cues and instead learn to trust and honor our hunger.
So God created human beings in his own image. In the image of God he created them; male and female he created them.

Genesis 1:27 (NLT)
Christian Intuitive Eating Principle #3: Make Peace With Food
The third principle of intuitive eating teaches us that peace with food comes when we give ourselves unconditional permission to eat.
Christian women don't need to fear food. Food is not the enemy, diets are!
We have to stop believing diet culture's labels about what we should and shouldn't eat. Food is not either "good" or "bad." Those are worldly labels that simply don't matter because Jesus declared all foods clean.
Food is a gift from God meant to point us to the Giver. So we can eat accordingly and without fear!
Again Jesus called the crowd to him and said, "Listen to me, everyone, and understand this. Nothing outside a person can defile them by going into them. Rather, it is what comes out of a person that defiles them." After he had left the crowd and entered the house, his disciples asked him about this parable. "Are you so dull?" he asked. "Don't you see that nothing that enters a person from the outside can defile them? For it doesn't go into their heart but into their stomach, and then out of the body." (In saying this, Jesus declared all foods clean.)

Mark 7:14-19 (NIV)
Christian Intuitive Eating Principle #4. Challenge The Food Police
The fourth principle of intuitive eating teaches us that we have to question and even silence all the critical, bossy, and self-righteous food police messages we're bombarded with daily.
For Christians, this intuitive eating principle can be paraphrased as "take every diet thought captive."
When we bring mindfulness to the table, we begin to notice how we have internalized the lies of diet culture in our daily thoughts and negative self-talk about food and our bodies.
Diet thoughts are from the enemy. So we have the daily challenge of taking our diet thoughts captive and holding them up to the light of God's truth.
For though we live in the world, we do not wage war as the world does. The weapons we fight with are not the weapons of the world. On the contrary, they have divine power to demolish strongholds. We demolish arguments and every pretension that sets itself up against the knowledge of God, and we take captive every thought to make it obedient to Christ.

2 Corinthians 10:3-5 (NIV)
Christian Intuitive Eating Principle #5: Feel Your Fullness
The fifth principle of intuitive eating teaches us to eat mindfully and listen to our body's fullness cues.
This echoes the second principle about hunger, and the same holds true for fullness. Because we trust the One who made our bodies, we can trust the bodies He made and embrace listening to our bodies, especially while eating. When we eat mindfully and pay attention to our body signals while eating, we can tune in to our body and better sense our fullness.
Christian Intuitive Eating Principle #6. Discover the Satisfaction Factor
The sixth principle of intuitive eating reminds us of the important truth that food is meant to be enjoyed. We are allowed to take pleasure in eating.
Food is a gift from God and it's okay to enjoy it! Food is a daily opportunity to give thanks to the Lord. We can celebrate God's goodness, love, and provision for us through His good gift of delicious, satisfying, nourishing food.
We just need to remember our true satisfaction and true fullness comes from God and not food.
For everything God created is good, and nothing is to be rejected if it is received with thanksgiving.

1 Timothy 4:4 (NIV)
Christian Intuitive Eating Principle #7: Cope With Your Emotions Without Using Food
The seventh principle of intuitive eating addresses emotional eating and reminds us that food can't fix our problems. This principle encourages us to find other ways to nurture ourselves that don't involve eating.
As Christian women, we don't have to turn to food as our only source of comfort. Instead, we get to turn to the God of all comfort!
Food is not a good coping method and it's not meant to be. Emotional eating and stress eating don't solve our issues. When we take our struggles to God, we find a comfort that food simply cannot give.
Praise be to the God and Father of our Lord Jesus Christ, the Father of compassion and the God of all comfort, who comforts us in all our troubles, so that we can comfort those in any trouble with the comfort we ourselves receive from God.

2 Corinthians 1:3-4 (NIV)
Christian Intuitive Eating Principle #8. Respect Your Body
The eighth principle of intuitive eating teaches us to accept our genetics and our bodies just as they are right now. We don't have to love our bodies, but we do have to respect them.
When we remember that God knit us together in our mother's womb, it becomes easier to accept the body He made for us. Respecting our bodies as Christian women means we must stop judging our shape and size by diet culture's unrealistic standards of beauty.
When we remember we are God's masterpiece and that He made each one of us unique, it becomes easier to stop worrying about how we look and stop comparing ourselves to other women.
I praise you because I am fearfully and wonderfully made; your works are wonderful, I know that full well.

Psalm 139:14 (NIV)
Christian Intuitive Eating Principle #9. Exercise – Feel the Difference
Exercise is not meant to be punishment. Find something you actually enjoy and embrace how it makes your body feel.
Don't ruin movement by making it all about weight loss. We need to discover and embrace joy in movement so that we want to exercise. 
For Christians, movement can even be a way to offer our bodies to the Lord and connect with Him in worship!
Let's get in touch with how it feels to just move our bodies, God's creation. Forget about what "counts" as exercise according to diet culture.
Instead, learn to care for your body by moving it and being active in a way that you actually enjoy.
Therefore, I urge you, brothers and sisters, in view of God's mercy, to offer your bodies as a living sacrifice, holy and pleasing to God – this is your true and proper worship.

Romans 12:1 (NIV)
Christian Intuitive Eating Principle #10. Honor Your Health with Gentle Nutrition
Gentle nutrition is about finding what works for your taste buds and makes you feel good. Don't worry about eating perfectly!
As Christians, we are called to treat our bodies like a temple for the Holy Spirit. Our bodies are meant to be respected and stewarded and well. Let's eat in a way that honors our whole health: heart, mind, soul and strength. By doing so, we honor God.
Do you not know that your bodies are temples of the Holy Spirit, who is in you, whom you have received from God? You are not your own; you were bought at a price. Therefore honor God with your bodies.

1 Corinthians 6:19-20 (NIV)
Intuitive Eating For Christians
By applying the 10 principles of intuitive eating to not just our food but to our faith, we can experience fuller and more abundant health, mentally, physically, emotionally and (most importantly) spiritually.
When we look at intuitive eating through a biblical lens, it has the potential to heal our relationships with food and reconnect us to our bodies and to God. I like to think of it as following Jesus not diets.

Erin L. Todd is a wife, dog mom, attorney-by-day and writer-by-night living in St. Petersburg, Florida. As a redhead who battled insecurity and body image issues for over 30 years, she now claims the concept of being both a masterpiece and a work in progress simultaneously.
Her blog "Ginger In Progress" was born from a spiritual awakening where Jesus set her free from diet prison. Now she is on a mission to empower and equip women to Follow Jesus Not Diets.
Find out more about Erin and grab your FREE Intuitive Eating Starter Kit for Christian Women HERE.
And, be sure to checkout her podcast too!
Brandice Lardner is a Certified Personal Trainer, Nutrition Coach, Author, Amazon #1 Best Selling Author, and Jesus Girl whose mission in life is to help women ditch the diet mentality and find peace with food and their bodies so that they are better equipped to do the great things God has called them to do.