If you're looking to lose weight and improve your relationship with food, you know it's important to learn how to stop eating when you're full and not stuffed. In this post, you'll learn 10 simple steps to help you stop eating (even when you don't want to).
I poked the last piece of scraggly broccoli with my fork and swirled it around the now cold garlic sauce that puddled on my plate. My stomach was already heavy, but I just couldn't leave that lonely stalk on my plate alone.
I kept eating even though I was full and couldn't even taste it. Broccoli is one of those foods that tastes great-when you're hungry.
The final bite was more of a conquest (or a compulsion) to leave no soldier behind. Twenty minutes later, I wondered if that was The Bite that pushed my belly over the edge to uncomfortable?
As humans, we like to be full. It's a preference wired into our DNA. Being full means sustenance and nutrition, and those two things mean survival. Well, at least before we lived just minutes away from Restaurant Row.
Though our world has changed, our genetic wiring has not. Our bodies don't know that we have such an excess of food in the U.S. that we throw out 31% or 133 billion pounds of food a year. That's a lot of food.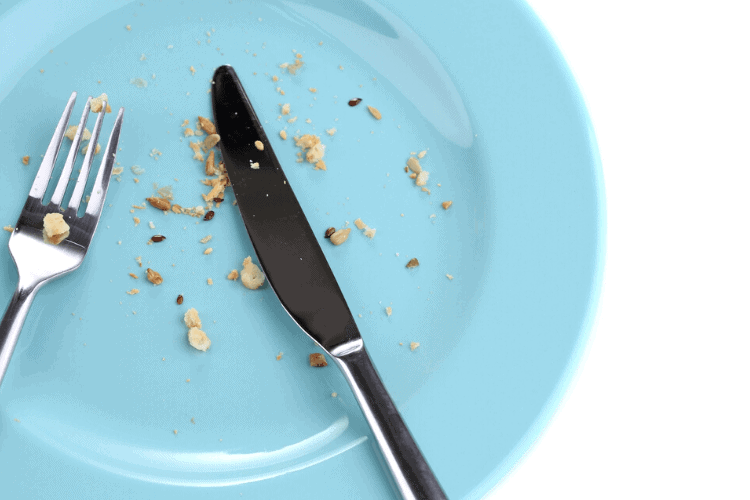 We Knew How to Stop Eating
You and I, we once were completely connected to our body's hunger and fullness signals. As infants, we would push away milk when we were done, without any need to "interpret" those how to stop eating when full signals.
Before we were exposed to heaps of processed foods and shameless advertising, we knew nothing more than the crystal clear indications that our stomach sent our brain. Hungry meant we needed food; full meant we did not.
My mom often shares the story of a big family trip to the ice cream parlor. Our crew descended upon Mack's Ice Cream with a single goal in mind. (Mine was chocolate peanut butter.)

While we adults sat there intent on finishing every last bite, my two young cousins abandoned their half-eaten, half-melted ice cream cones and swapped their focus to play. Their desire and need to eat were one and the same.

We marveled at this and, I am pretty sure, one of us older people finished what they left behind.
At some point, we knew how to stop eating so much but then we didn't. How did it happen?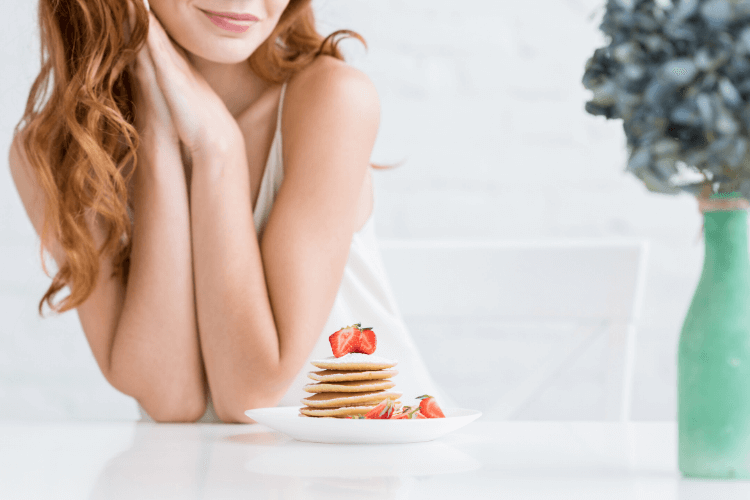 Why Is It So Hard to Stop Eating?
If you're reading this post, I'll go ahead and assume that you have lost a clear connection with your fullness and that you struggle to stop eating when full. The disconnect may have happened at a young age for you or, like me, when you went on your first diet.
(I still have fond memories of my Halloween candy lasting until Easter and my Easter candy hanging around until Halloween. That was B.D., before dieting.)
For many, eating became a source of comfort during a difficult time in their lives. Managing hurt became more imperative than honoring satiety. Food was a big help…but now it hurts.
Or maybe you simply liked to eat, and super-sized meals at super-sized deals were more than you could pass on.
Whatever your story, it's what makes you, you. And you are in the majority, my friend. So many of us do not know what it truly takes to fuel our bodies. But, we're not without hope. Eating until you're satisfied IS a skill that you can (re) learn.
How to Make Yourself Not Want to Eat
For some, the idea of stopping their meals when comfortable makes them squirm in their restaurant booth. For others, they're ready to change but don't quite know how to make it happen. The rest, well, they quit reading 3 paragraphs ago to go hit up the Super Buffet.
You can reconnect with your fullness factor with these 10 Biblical steps. But first, let's talk about one major thing that might be holding you back.
Let's Not Forget Emotional Eating
As we move forward, there are two levels of instruction I'd like to share with you. These go hand-in-hand. One area will likely be easier for you than the other.
The internal. This is the way we think and how we feel about food. Our baggage, so to speak.
The external. These are the simple (not necessarily easy) actions that we can take to make "stopping when full" easier.
How we think and feel affects how we act…and how we act affects how we think and feel. You will learn how to push away your plate by learning skills in both of these areas. You probably won't need to do everything, but you will need to do the important things (to you).
10 Ways You CAN Stop Eating
Yes, it's totally possible to stop the mindless, emotional, just cause it's there eating, and that's what we're going to tackle now!
Read through the list below, then do the following steps to get started.
Ready? Let's go!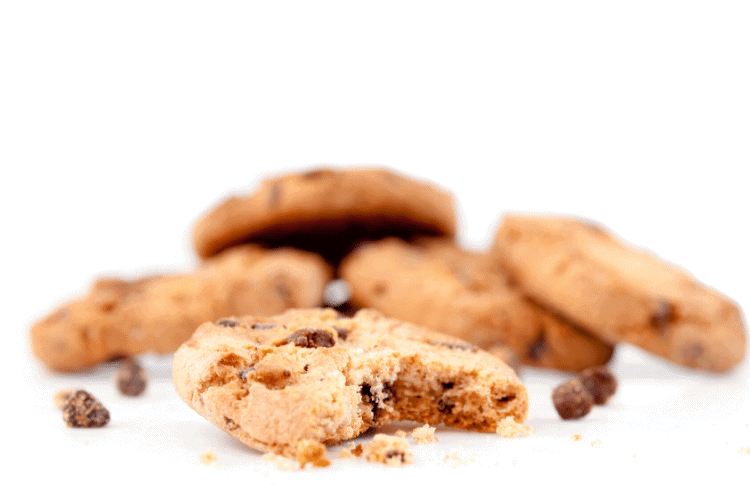 1. Start Eating When You're Physically Hungry.
It's 10 pm and your slouched body can hardly hold up your lead-filled eyelids and bobbing head. You have been on-the-go since the wee hours of the morning and you are t-i-r-e-d. Contrast tired to being refreshed.
We only know what exhausted feels like because we're familiar with feeling rested.
In the same way, eating only when you are hungry is one of the MOST effective strategies for stopping when full. When you know hunger, you notice its absence. If you aren't hungry when you start, how could you possibly know when to finish?
Hunger and fullness are the bookends to mindful eating.
Read more about eating when hungry in this blog post. In fact, you may want to start there first!
2. Slow Down Your Eating.
We are a society of fast eaters. It's common knowledge that it takes our brain 20 minutes to receive the fullness signal from our stomach, but many of us consume a meal in less than 10!
Nothing makes this more obvious than when you've spent an entire hour making a delicious meal for your family only to have them devour it in a fraction of the time. So annoying.
Truth is-we have places to go and people to see. We like to eat and we enjoy food, but we don't make the time to fully enjoy it. It's time for a compromise.
Do your best to slow it down. Break out a timer and see how many minutes your dinner takes you. Then try to go a minute or two longer. Next, try these helpful tips that show the benefits of eating slowly.
3. Watch Out for Mindless Eating.
Piggybacking on eating slowly is "paying attention." Did you ever get to the tail end of your meal only to wonder where the heck it went? You were scrolling Facebook on hand-to-mouth autopilot when you heard the "cling" of your spoon hitting rock bottom of an empty bowl. What a bummer. You're physically full but still mentally hungry.
By being present at your meal, you can really taste and enjoy the eating experience. This way, when you finish eating, your body and mind will know you were there. Then it is much, much easier to walk away.
If you find yourself at a social event and the conversation is keeping your concentration at bay, sprinkle in a few moments of mealtime mindfulness. You don't need to pay attention to your plate all of the time to find value in this practice.
Rather, use your new millennium multi-tasking skills and do two things (kinda) at once.
To practice, simply redirect your attention to your taste buds and tummy for a quick assessment. Much like checking your speed while driving-your attention is on the road, but you divert your eyes for just a moment to see if jamming out to your favorite song has caused your lead foot to take over.
4. Take a Break During Meal Time.
Before this stop-when-you-are-full habit is natural, there is The Break. If an empty plate has been your cue to stop eating, then you are a prime candidate for a pause. Mentally or physically divide your plate into quarters. Then as you finish each segment, give yourself a minute or two to regroup.
Check in with your body, reconnect with your brain, and pry the fork from your hand. This speed bump is a fantastic way to slow down, reset, and stop eating so much.
5. Eat the Best Bites and Leave the Rest.
Do you ever find yourself saving the best bites for last? The center of the sandwich, the perfectly cheesy bite of pizza, the just-floppy-enough French fry off your husband's plate?
When I was a kid, I loved Lucky Charms. You know the cereal with marshmallows? Yeah, it's a real winner. I crafted a well thought out technique– First, I would eat all of the sweetened cereal, so that I was left with spoonfuls of only marshmallows at the end.
Imagine if you ate the best bites first. This means enjoying the tastiest bits when they are hot and fresh and when your appetite is at its peak of taste enjoyment. Then, as you reach comfortable fullness while there is still food on your plate, it will be much easier to leave the less ideal bites behind.
When your body has said "all done," that dried out, cold, scraggly bit belongs in the trash.
6. Pay Attention to Taste Fatigue.
Just as hunger makes food taste amazing, fullness makes food taste ho-hum (another great reason to practice #4).
A satisfied soul loathes the honeycomb, but to a hungry soul every bitter thing is sweet.

Proverbs 27:7 (nkjv)
By rating the deliciousness of your meal, you will have a pretty good clue about your body's needs. As your salad slips from a 10 to a 7, you are filling up. When you're gnawing lettuce leaves that are just a 4, it's time to pack up and move on.
Notice the way that your taste buds fatigue, and use that indicator to guide your decision to stop eating.
7. Serve Yourself Less Food.
Sure, in an ideal world you would listen to your body's every whisper and respond accordingly. But let's face it-we live in a noisy world. If you have trouble hearing your stomach signals or you aren't quite ready to leave a soldier behind (on your plate), it's perfectly OK to simply serve yourself less.
Plate up what you normally would and put 3-5 bites back.
It's really that simple. Stick with that new portion size for a bit, and if you think you could spare a bit more, pare your meal back again.
8. Meet the True Need.
If you're eating for reasons outside of true body hunger, physical fullness in your belly is no reason to stop. Rather than trying to force or coerce yourself to step away from the food, take a few moments to assess what it is that you really and truly need.
There are 10 common reasons that we can't stop overeating, including boredom, stress, physical dehydration, spiritual dehydration, and more.
To learn more, grab the FREE Hunger and Fullness Tracker that will walk you through all 10 areas below.
9. Eat a Satisfying Meal.
If your meal is UNsatisfying physically or mentally (yeah, that's a thing), you won't be able to get up from the table and move on without thinking about food.
A physically satisfying meal is one that is balanced with protein, carbohydrates, and fats. Now, we're not talking about a perfectly balanced plate, but one that has a showing of each of these macronutrients.
A mentally satisfying meal is one that includes foods you ENJOY. Contrary to what diets may have taught you, what you like to eat is important.
You may have heard that we should eat to live, not live to eat, but I wholeheartedly disagree.
Food is fellowship.
Food is celebration.
And, food is so yummy…it's pretty clear God intended for us to appetize His creation.
Choose foods that marry your wants with your wisdom, eat your meal, and get on with your awesome life!
10. Let Go of Unhelpful Diet Rules.
The quickest route to a craving is to deem a food "bad" or "off-limits." In fact, diet rules are largely responsible for our overeating problems to begin with. After all, when did you begin to have problems pushing away your plate?
Chances are really good that it all started at the hands of a…you guessed it! A DIET. Diet side effects are a real thing!
When you step away from rules and connect with what you're truly desiring (and not what you think you "shouldn't" be eating), moderation becomes possible and you can finally stop binge eating.
Why It's Important to Stop Eating So Much
If health, body weight, and eating in a self-controlled way are of any concern to you, learning your body's hunger and fullness signals is a worthwhile pursuit. Energy (calories) eaten outside of our physical needs and what we burn on a daily basis will be stored as body fat. That's not great for our health or for fulfilling our life mission.
This is the simplest and one of the most effective ways to move forward. Yes, changing what you eat matters too, but I will be the first to tell you that you can easily overeat (and be overweight) while eating healthy food.
But, sometimes, it doesn't seem to "work."
When Stopping When You're "Full" Doesn't Work
We can become so disconnected from our "stop" and "go" that we may feel like we are eating when we are hungry and stopping when we are full…but yet we remain overweight. I have had this discussion with clients many times. Yes, our cues can become miscalibrated.
In my dieting career, I knew two signals rather well-starving and stuffed. I'd white-knuckle not eating until I could hardly stand it, only to eat voraciously until I was overfilled. On a hunger graph, I spent my time at "0" and "10."
Relearning to live in the middle meant that I had to become more sensitive to the messages my body was sending me.
If you feel stuck, start to experiment with stopping your meal a little sooner. By faith, put down your fork and see if you can reacquaint yourself with a new level of hunger that feels great. Chances are good that you'll be pleasantly surprised by how fabulous you can feel with a little less food!
Your Next Steps for How to Stop Eating When You're Not Hungry
Now that you've had a chance to read through some fresh ideas about WHY and HOW to stop eating when satisfied, it's time to put an action plan into place.
Download your Hunger & Fullness Tracking Sheet below

.
Do your best to wait to eat until you are truly hungry. This will make stopping when you're satisfied so much easier. If you're up for it, you may want to consider focusing there first.
Read over the 10 tips above and choose ONE to practice. Determine when and how you will work on this skill. Be sure to choose a practice that's exciting and that you feel about 90% confident you can successfully complete.
Practice this habit for 1-2 weeks, evaluate your proficiency, and then plug in some additional skills to support your efforts. It is essential to get rid of

all-or-nothing eating

. You will NOT stop eating when satisfied every single time you eat, ever. Accept this and keep your eyes forward, even on those days you find yourself willfully speeding past your internal "stop" sign.
Stopping your meal when you are satisfied is one of those skills you'll probably need to remain aware of your entire life. As a society, we're faced with oversized portions, dinnertime distractions, and hyper-palatable foods that make it easier than ever to overeat.
But…with some time, attention, and a few ninja moves, you can train yourself to hear and respond to your body's fullness cues and learn how to stop eating–even when you don't want to!
Brandice Lardner is a Certified Personal Trainer, Nutrition Coach, Amazon #1 Best Selling Author, Homeschool Mom, and Jesus Girl whose mission in life is to help women ditch the diet mentality and find peace with food and their bodies so that they are better equipped to do the great things God has called them to do.