We all want to make nourishing meals for our families but sometimes getting them on board with healthy eating is no easy task. The mere mention of healthy eats can lead to groans about how "health food" is nothing but cardboard and weeds. I get it but, thankfully, nothing could be further from the truth. Today we have access to so many delicious ingredients and cooking techniques that can makeover just about any meal.
The idea of the meal makeover is something that I use with my clients on a regular basis. Rather than trying all new recipes with all new ingredients, why not take the meals they know and love and make them more nutritious? Because the best way to guarantee that you will eat healthy food is to make meals that you actually want to eat!
Of course, there may still be some pushback from uninterested family members. But, if you are the one doing the cooking and shopping- you hold the cards! If they are incredibly resistant, simply ask them to try one new meal per week. In this scenario, you will be better off trying a new, healthy dish. This is because, in most cases, the two won't compare to each other in their already made-up minds.
Here are 10 tips for your meal makeover!
(This blog uses affiliate links. As an Amazon Associate, I earn from qualifying purchases. Please see my full disclosure here.)
1. Swap Out Full-Fat Dairy for Low-Fat, When Dairy Is A Main Component Of The Dish.
While some dairy fat is good to go (as you will see in the next point), when a dish is heavily reliant on dairy, it is best to choose low-fat dairy products to bring the overall calorie content down. If you are easing in slowly, opt for low-fat rather than fat-free, as the fat-free tends to have a different texture.
When using ricotta for lasagne and calzones, we prefer Polly-O brand because it is very creamy and tastes as great as the full-fat version.
TRY IT! This Healthy Lasagne uses whole wheat noodles, low-fat cheese, and added veggies to really bring your comforting Italian food game to the next level!
2. Use Authentic, Full-Fat Cheeses And Use Less.
When cheese is not the main component of a dish, treat it as a condiment. When choosing what type of cheese, stick to imported and full-fat versions as they pack the most flavor. A little goes a long way!
For example, we purchase imported sheep's milk feta from a local produce stand. This feta is creamier and more flavorful than the store-bought options. The same goes for Parmesan, blue cheese, and the like.
TRY IT! This Roasted Beet & Butternut Squash Beet Green Salad uses just enough authentic feta cheese to make it fabulous!
3. Use Less Oil And Butter Than The Recipe Calls For.
One easy-peasy way to reduce the calorie content of a meal and bring the fat ratio into balance is to reduce the amount of butter and oil that you use in a recipe. If you simply Google a vegetable recipe, chances are that the dish will have several tablespoons of oil or butter. Yes, fat in the form of oil and butter adds flavor to your meal but you don't need a lot of it to do so.
Experiment with the amount of fat you need in your cooking process. I find that 1 tablespoon of oil is plenty when sauteing or roasting a family-sized serving of veggies.
Salad dressings can easily add a lot of calories. Those with more acid (vinegar and/or citrus) taste wonderful and keep your light dinner, lighter.
TRY IT! This Marinated Vegetable Salad uses a vinegar-based dressing that packs a ton of flavor while keeping the fat content in balance.
4. Swap Out White Rice For Whole Grain Brown Rice, Millet, Quinoa Or Cauliflower Rice.
Rice is a staple in many types and nationalities of cuisines. While I don't see white rice in many recipes these days, it is nice to have several alternatives to up your nutrient-game!
Brown rice is the natural swap for white rice. It's delicious and its nutty flavor lends itself to a variety of dishes. Millet is an ancient grain but it's also the new kid on the block. Along with quinoa, you can use millet as an easy substitute for white rice.
TRY IT! This Quinoa Black Bean Burrito Bowl is a creative way to try a new grain!
5. Swap Out White Pasta For Whole Grain Pasta, A Bean-Based Pasta, Or Spaghetti Squash Or Zoodles.
Pasta makes an appearance on most American tables on a weekly basis. And there's a good reason- it's easy to prepare and lends itself to a variety of dishes. There is no doubt in my mind that everything is better with marinara sauce on it!
If you are making the switch from white to whole wheat pasta, try Barilla Pasta Plus. This pasta is made with wheat and legume flour and its taste and texture are very similar to white pasta. We have tried and enjoyed most whole wheat varieties and now prefer it over white pasta.
Our absolute favorite is Banza Chickpea Pasta. No one will know it's made out of beans– it's that good!
Spaghetti squash and zucchini noodles made with a Spiralizer are a fantastic way to get your veggies in! You may do 100% squash or mix either of them with pasta. I will often serve my husband and daughter these "noodles" as a side dish and use them as my main course.
TRY IT! It doesn't get much easier than this Lightened Up Linguini with Clam Sauce. This recipe calls for whole wheat angel hair pasta, to soak up this simple and delicious sauce!
6. Swap Out White Bread for Whole Grain Options.
White bread. What was once a staple in American households has now gone the way of the ___. But, while traditional Wonderbread® is not as popular, many of the so-called "wheat" bread lack the nutrition and fiber that true whole wheat breads offers. When you are shopping for wheat bread, be sure to look for "100% whole wheat" bread where "whole wheat" is the first ingredient.
I love Ezekial bread but it is best toasted. If you are looking for a great substitute for less nutritious bread, I highly recommend Dave's Killer Bread. Their bagels are amazing too!
TRY IT! This Strawberries & Cream Ricotta Stuffed French Toast uses Ezekial bread to bring the whole grain goodness to your breakfast! Feel free to use any whole wheat bread.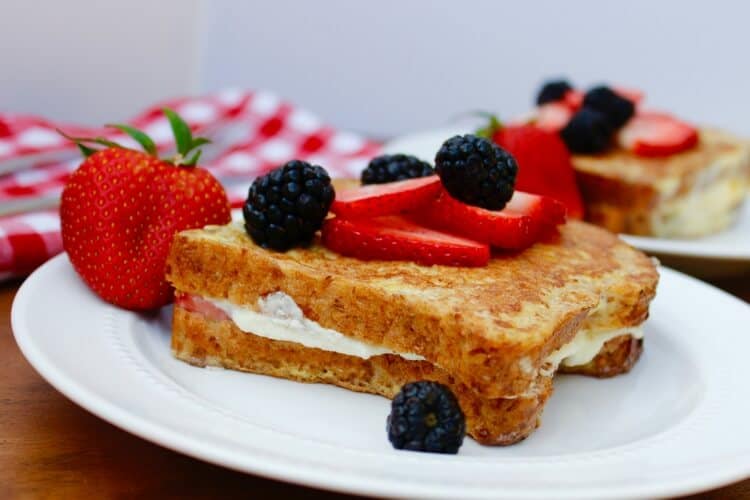 7. Bake Instead Of Fry.
When asked which food to avoid for our health, fried food is one of the first that comes to mind. A trip to the fair will teach you that just about any and every food can be fried. While dunking Twinkies in the deep fryer can make for a fascinating treat, the regular consumption of fried goods is just bad for our health.
Thankfully, baking is a fantastic way to make mouth-watering dishes that deliver in taste and nourishment!
TRY IT! These Baked Chicken Nuggets don't miss a beat! Serve them with some baked fries and you've upped your fast food game!
8. Swap Out Mayo With Greek Yogurt or Avocado.
I will be the first to raise my hand and say that I adore mayonnaise. While I am not a fan of full-fat mayo, I use Hellman's Light quite frequently. I prefer this brand because it is not overly sweet and it's rather low-calorie. That being said, non-fat plain Greek yogurt and mashed avocado are a fantastic substitute for mayonnaise both in recipes and on sandwiches.
TRY IT! This Southwestern Chicken Salad Recipe uses avocado in place of mayo in a way that supports the overall flavors of the dish.
9. Add In Extra Veggies Any Way That You Can.
Quite a few years ago Jessica Seinfeld came out with a cookbook for kids that focused on sneaking vegetable purees into your kid's favorite foods. The idea is nice- get more nutrition where you can. But, I am not a fan of being undercover about the goodness of plant foods.
In this tip, my suggestion is to add veggies to your family-favorite dishes in a way that complements the flavors and teaches your dinner guest how tasty veggies can be!
Here are a few ideas to get you started:
Add shredded or diced zucchini and carrots to marinara sauce.
Add diced red, yellow, orange and green bell peppers, and onions to chili.
Double up veggies in your stir-fry dishes.
Add diced veggies to your roasted potatoes
Grill onions and mushrooms to top your burgers.
Add sauteéd peppers, onions, and mushrooms to fajitas.
TRY IT! This Roasted Veggie Pasta Salad doesn't miss a beat. Add in diced, grilled chicken breast for the meat-eaters in your family.
10. Use Leaner Or Smaller Cuts Of Meat.
While I agree that some fat is good, when it comes to fattier meats, the calories can quickly add up.
Did you know that a small 4oz serving of ground beef could have almost 400 calories and 32 grams of fat? Wowza! If you enjoy a full-fat burger from time to time, go for it. But, consider replacing your regular rotation with a leaner cut of meat or really keep an eye on those portions.
For example, burgers can be made with 95% lean beef, 93% ground turkey, ground turkey breast or ground chicken breast. Please note that you will want to find recipes suited to these meats as leaner cuts do cook differently than their richer versions.
Other lean protein sources include seafood, fish, chicken breast, turkey breast, top or bottom round steak, pork tenderloin, tofu, and beans.
TRY IT! These Lean & Moist Turkey Burgers have got you covered with some hidden veggies and high-protein, lean meat. The added zucchini keeps the patty moist and makes for one massive burger.
Get Cooking!
As you can see, the options are endless for a healthy meal makeover! When healthifying your own recipes, modify one piece at a time. With some time and experimentation, you will be able to discover what nutritious and delicious eats you like the most!
Brandice Lardner is a Certified Personal Trainer, Nutrition Coach, Amazon #1 Best Selling Author, Homeschool Mom, and Jesus Girl whose mission in life is to help women ditch the diet mentality and find peace with food and their bodies so that they are better equipped to do the great things God has called them to do.