You've been watching your diet but the scale is not moving. You're frustrated and you don't know what to do next. What are you missing? Learn one reason why you may be eating vegetables and not losing weight—and get your progress going again!
You step on the scale and nothing has changed. "How can this be?" you groan. "It's been 3 weeks, and I've eaten more vegetables than a rabbit, swapped ice cream with fruit, and even tried lentil pasta. Twice."
The frustration mounts. You're eating healthy but not losing weight.
I feel your pain. You're doing great but there's ONE important piece you may be missing.
First things first, I want to affirm you for staying the course! It takes a lot of focus to keep plugging along when it doesn't feel like you're making any progress.
Let me assure you though, even if you're eating clean but not losing weight, the changes you've made are making a difference in your health.
There is no planet where eating more vegetables and less cake are NOT good for you. If it existed, we'd all move there.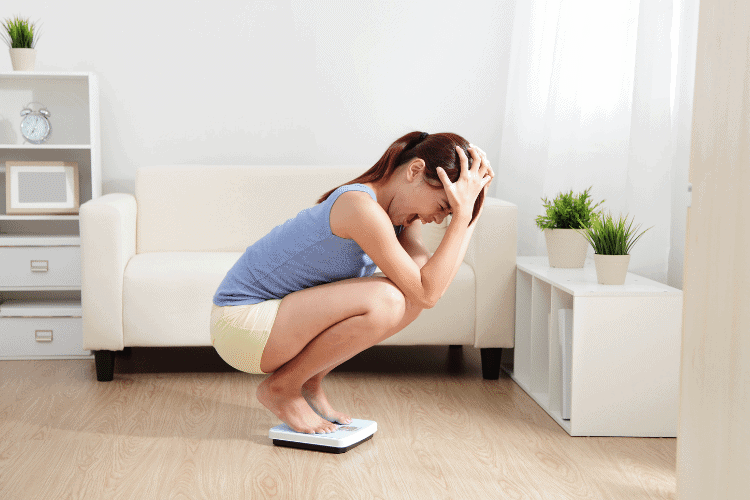 The 90's Called–They Want Their Snackwell's Back!
When I first started to make changes in my eating habits, it was the 1990's and fat-free was the fad. Snackwell's and Special K were the Ninja Turtles fighting off the villainized F-A-T we were so desperately trying to escape. (Funny, most of us actually got FATTER in the 90's.)
In an effort to lose those pesky pounds, I aimed to keep my daily fat intake under 10 grams per day. Yes, that's for the entire day.
Fat was bad and anything without fat was considered fair game. Portions didn't matter. I would eat entire boxes of fat-free cookies and a whole canister of raisins because surely if it lacked fat, it couldn't make me fat.
I bet you're not surprised to hear that I didn't lose any weight. In fact, I gained.
It is frustrating to feel like you are doing everything right for no reason.
RELATED POST: Diet Help: The Biggest Problem With Diets and How to Solve It
This story illustrates a very important fact–labeling foods as "good" can cause us to eat more than we would have otherwise.
The Healthy Food Halo Effect
They say love is blind. When we see the object of our affection through rose-colored glasses, we lose our logic and miss obvious warning signs.
Why are you eating vegetables but not losing weight?
Have you fallen victim to the "healthy food halo effect"? Do you focus solely on food quality and overlook how much you are eating?
Here's a quick "eating vegetables but not losing weight" quiz to check. Have you ever?
Felt comfortably full after eating a healthy meal and yet decided to keep eating simply because the food was "healthy" or "low in calories"?
Gone back for seconds even when you weren't hungry, justifying it because the food was "good for you" or "low calorie"?
Been bored (you're not hungry) and decided to eat a "healthy" or "light" snack just to pass the time?
Ate dessert on an evening you wouldn't have otherwise just because the sweet treat was "low in calories" or "sugar-free"?
If you see yourself in any of these situations and you have hit a plateau on the scale, I have great news for you!
RELATED POST: How to Eat Better Without Making Yourself CrAzY
By acknowledging that all calories count and that any food eaten beyond your body's needs (kale and quinoa included) will lead to weight gain, you're on your way to seeing some weight loss.
How To Make Progress Again
Now that you're beginning to gain some clarity on why the scale may not be moving despite eating clean, it's time to make a plan. Here are 4 simple steps that you can take to begin making progress.
1. RAISE YOUR AWARENESS.
Try to become more aware of the times that you use the health qualities of a food as a justification for eating more than your body needs. Noticing is the first step. Put judgment to the side and simply pay attention.
I often catch myself going back for more veggies or salad just because they were programmed into my mind as a "free" food. I remember eating bowls and bowls of veggie soup only to end up stuffed.
Yes, they are just vegetables, but reaching a point of overfull is never a good thing for weight loss, no matter what food you're eating.
2. STEP AWAY FROM ASSUMPTIONS.
We often assume we know how much we can and should eat. Rather than eating what you think you should, take on a fresh perspective and go into your meals with no preconceived ideas and simply listen…
3. LISTEN TO YOUR BODY. 
Pay attention to your hunger and fullness cues. Far beyond a caloric measurement, your body's hunger and fullness signals will lead you toward the amount of food you truly need.
Ignore these signals and that's as much of a recipe for weight gain as sustaining yourself with low-nutrition foods.
4. BE HONEST WITH YOURSELF.
Notice the times you use excuses to keep eating. To get unstuck, be honest. If you want to eat more, acknowledge it. If you're looking for comfort in food, be real.
This honest assessment will reveal the reasons you're turning to food outside of your physical needs.
Keep Making Great Choices
Remember that nutrition still matters. Low-quality foods are easy to overeat and are not nearly as satisfying as whole, nutrient-dense foods. True nourishment helps our bodies run optimally and promotes good health, but even these healthy foods can be eaten past full, leading to weight gain.
Watch out for the "it's healthy" lingo and remind yourself that every bite matters.
Brandice Lardner is a Certified Personal Trainer, Nutrition Coach, Amazon #1 Best Selling Author, Homeschool Mom, and Jesus Girl whose mission in life is to help women ditch the diet mentality and find peace with food and their bodies so that they are better equipped to do the great things God has called them to do.