With all the conflicting diet information out there, what are the best foods to eat for weight loss? Find out now!
Jump to this episode's show notes now.
Have you ever wanted to pull your hair out over an eating decision? Yeah, me too. And, it feels awful…
After all, we know that as a nation, we're "rich," and there are millions around the world who are chronically undernourished.
And there I stand, at my wit's end, deciding between non-fat and 2% Greek Yogurt. It's annoying and frustrating, and yet it feels like the "heaviest" decision of all.
We're overwhelmed with so much diet knowledge that it's making us "fat." We're busting at the seams, full of so much info that we're paralyzed to make a healthy choice.
As you stand in the checkout line with what you think are good choices, a magazine cover shouts that your carefully chosen eats are going to make you fat.
And, of course, every diet book contains a graph of foods to avoid and foods that are must-haves.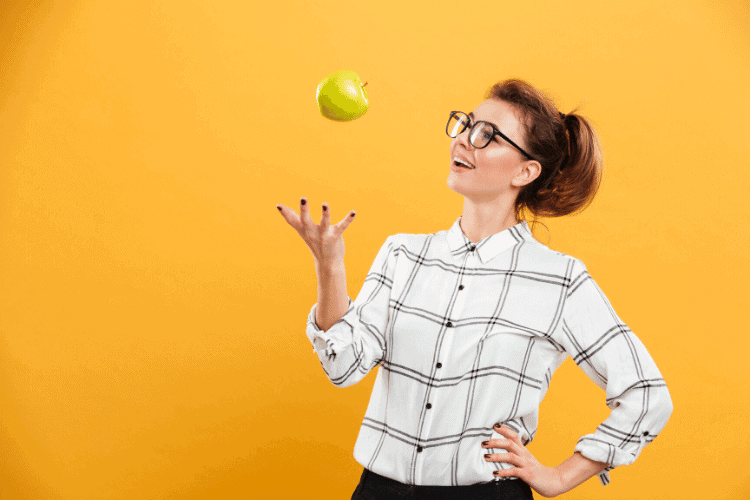 We are so bombarded with lists and ideas about things we should and shouldn't eat, that it's clouded our ability to make a choice for ourselves. Even the decision to eat kale could be weighted down by worries whether it's local or organic or a dozen other things that we're concerned about.
And yet, in searching for the best foods to eat for weight loss, we miss three super-duper important factors that are going to dictate whether that food actually helps you lose weight or not.
In this post, we're going to dive into those three points–so that you can make an empowered, inspired, and smart choice about the foods that you decide to eat or not to eat.
Because ultimately, you're the one that should be calling the shots. Nobody knows you better than yourself.
Best Food for Weight Loss #1: Food That You Like.
I know, I know, you're cringing because you're thinking about all of the junk food you'd like to consume if you only had a green light. Brownies and nachos and buttered rolls, they're all dancing through your mind.
And yet, if you choose to only eat foods that you think you "should" be eating, and you force yourself to eat foods you dislike, you're probably going to end up unsatisfied and…eating the foods you were trying to avoid in the first place. Because holding something at arm's length only makes us want it more.
You've experienced that before, I'm sure.
Let's pretend that you started a new diet and it cuts off a food that's on your it's-ok-but-it's-not-my-favorite list. But now that you can't have it, this "bad food" starts to look really, really appealing.
It's hard to avoid and you can't stop thinking about "it."
Fed up, you decide to sit down and enjoy said food (notice you're not crouching in the kitchen and feeling guilty). And guess what? You walk away from the meal mentally satisfied…ahh. You can move on without thinking about "it" anymore!
That's pretty amazing, and what we're all longing for.
Eating Foods You Enjoy Prevents Binge Eating (If You Do This).
It's also important to choose food you like so that you can prevent binge eating. If you only permit yourself to eat certain foods during a binge session, it's going to be very hard to stop the binge cycle.
By bringing those off-limits foods systematically into your meals and giving yourself full permission to enjoy them, they'll start losing their pull on you. And, eventually, they'll become just another food.
Allowing yourself to eat "foods you enjoy" as part of your regular diet is key to losing weight.
Best Food For Weight Loss #2: Food That Makes You Feel Great.
It should calm your fears to know that you can eat foods that make you feel great. This could be a type or quantity of food.
In order to lose weight, we need to be active and energized. It helps greatly to live free from excessive stress and to get plenty of sleep.
To have that type of lifestyle, you'll probably want to work on your fast food habit, reduce your consumption of processed foods, and stop getting your energy from sugar and caffeine.
Those habits leave you lethargic and not very inspired to get up and move. And, in that state, it would be difficult to live out the calling that God has on your life.
The Question You Need to Ask Yourself
What foods make you feel great? I mean like really, really great–physically, mentally, and emotionally.
Now, this doesn't mean eating only "healthy" foods all the time. You'll likely be able to include modest portions of richer, sugary, or less-healthy foods and still feel great. But, it takes some finesse to find meals that meet those criteria.
Imagine This…
For example, let's say you go out to dinner and you're really craving a burger and fries. Those are foods that you like, right? (see point #1)
Thinking about it, you realize that if you had a meal of burger and fries, you're going to feel physically lethargic. Your body's probably going to just want to take a nap, and mentally, you're not going to feel so great either.
So you make a choice of marrying your wants with your wisdom. You choose to get a salad and split a serving of fries with your husband. The fries sounded a little bit better than the burger.
You eat slowly and savor every bite.
And, because you're savvy at self-care, you assure yourself that next time you go out, you'll order a burger with a salad.
You finish your meal…
You're full, satisfied, and able to move on without thinking about food.
And, best of all–you don't go home and nosh on unwanted packaged cookies.
Maybe you even feel good enough to go for a walk afterward!
You are winning because you chose foods that you like and foods that you make you feel awesome.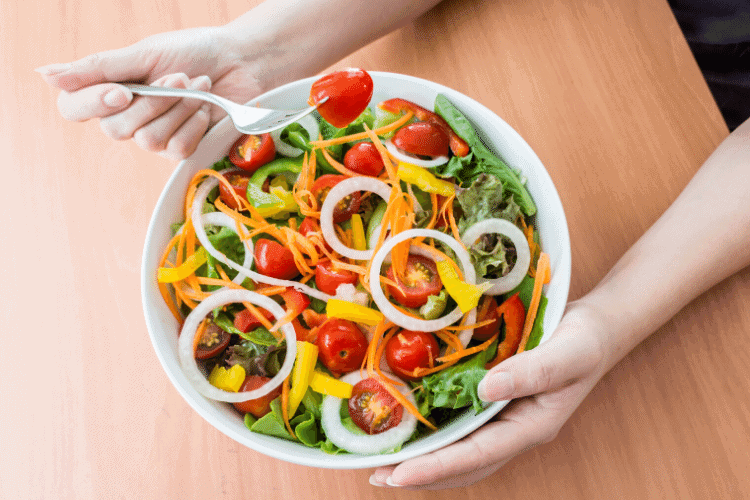 It may help you to take some time and just jot down different foods that you like and see which ones make you feel great physically and mentally.
And you can avoid foods that make you crave more and more for a season, if that helps you think more clearly.
That list will change over time as you get more proficient at moderating your choices of sweets and snacks that aren't held off at arm's length. You'll be able to eat smaller portions because you don't fear that the food will be taken away.
Best Food for Weight Loss #3: Nutritionally Sound Foods.
Nutrition is important but at some point, that knowledge can cause more harm than good. For the average Jane, perfect macronutrient splits are completely unnecessary. However, knowing a little bit about proteins, fats, carbs, and what a "whole food" is will go a long way!
Eating a somewhat "balanced" meal is important because that can actually help you eat fewer calories for energy without feeling unsatisfied.
Gentle nutrition is smart and it's not rules-based. It's education, but it's not weighing you down with unnecessary rules.
Smart, sane nutrition means identifying key nutrients on your plate without micromanaging the details.
When you're ready to eat, look at your plate:
Is there a carbohydrate source? Do I have vegetables, potatoes, rice, grains, or bread?
Is there a protein source? Do I see beans, tofu, meat, or dairy products?
Is there a fat? Do I have some oil, butter, nuts, seeds?
A meal with all three of those components will help you leave the meal feeling satisfied. Have a meal loaded with any one of those? You probably won't feel so great. Completely lacking any? You're probably not going to feel so good either.
If you are a child of the '90s as well, and you ate a massive meal with zero fat, you know exactly what I'm talking about. All the protein and carbs in the world won't leave you feeling great if there's not a little bit of fat there to satiate you. And the same can be said for carbohydrates and proteins as well.
Choose a meal that is going to satisfy you physically with fiber, water, protein, fat, and carbohydrates. These are the criteria for foods that help you lose weight. They're the foods you like, that make you feel good.
These foods ultimately allow you to walk away from a meal feeling physically and mentally satisfied. You eat, move on and let food be done. Off the to-do list. You don't have to think about it anymore.
Then you can move on to things that are more important in your life.
What To Do
Consider how these 3 points vary from how you think about eating "healthy."
How does this approach vary from what you've tried in the past?
Could this change of perspective help you walk toward food freedom?
What's ONE step you can take this week to embrace these "weight loss foods"?
Podcast episode show notes
With so much contradictory information out there, it's hard to know what to eat! What ARE the best diet foods to eat for weight loss?
In this episode, you'll learn the 3 essential dieting questions to ask yourself when choosing what foods to eat. If you miss these, you're going to end up spinning your wheels and losing your motivation!
Links mentioned:
You may also love:
Get a FREEBIE:
Rather watch? Catch the video on YouTube.
Brandice Lardner is a Certified Personal Trainer, Nutrition Coach, Amazon #1 Best Selling Author, Homeschool Mom, and Jesus Girl whose mission in life is to help women ditch the diet mentality and find peace with food and their bodies so that they are better equipped to do the great things God has called them to do.