Is there anything wrong with dessert for breakfast? From the Strawberry & Apple Breakfast Crisp to the Crockpot Oatmeal that tastes like oatmeal cookies, there is no shortage of sweet and healthy morning treats at our house. Yes, you are on a healthy eating blog.
This Stuffed French Toast makes an appearance at birthdays and slow Saturday mornings. Because it uses so little ricotta cheese, you may want to time this recipe near a dinner that also uses ricotta. Veggie lasagna anyone?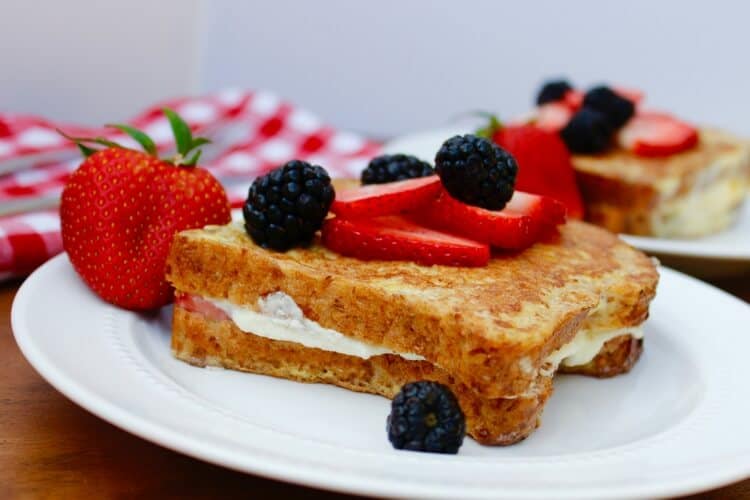 If you would like to opt for a lighter version, use low-fat cottage cheese for the filling. If you are not a fan of the texture you may blend up the cottage cheese and honey with a hand mixer.
For a more decadent meal, try low-fat cream cheese. Just be sure to allow the cream cheese to come to room temperature so that it spreads easily.
A few variations: You may also use thinly sliced apples with a sprinkle of cinnamon or bananas with a wee bit of peanut butter mixed into the ricotta cheese.
Strawberries & Cream Ricotta Stuffed French Toast
Recipe type: Breakfast
Ingredients
2 eggs
2 tablespoons unsweetened vanilla almond milk
½ cup low-fat
2 teaspoons honey
4 slices sprouted grain bread
6 strawberries, thinly sliced
½ tablespoon coconut oil
Instructions
In a shallow dish whisk together eggs and almond milk.
Mix together ricotta cheese and honey.
Divide ricotta cheese mixture between two slices of bread. Top with strawberries and second piece of bread.
Place "sandwiches" into the egg and almond milk. Allow to sit for 3 minutes, turning 3 times to allow for even soaking.
Heat coconut oil in a large sauté pan over medium-high heat. Brown both sides of the French toast, reduce heat to low and cover to cook thoroughly. About 7 minutes.
Remove from heat and serve with syrup or additional strawberries.
Brandice Lardner is a Certified Personal Trainer, Nutrition Coach, Author, Amazon #1 Best Selling Author, and Jesus Girl whose mission in life is to help women ditch the diet mentality and find peace with food and their bodies so that they are better equipped to do the great things God has called them to do.