This is seriously the most amazing banana bread you will ever have and it has no added sugar as well as some pretty wholesome ingredients! It is my a staple in our house and one of my go-to's for potlucks and parties. Everywhere I take it, it's a huge hit!
This post contains affiliate links. Please read the full disclosure here.
I've never been much of a baker, which has to be exact in your measurements and all, but this I can do. I will admit that no two loaves are ever exactly the same. The texture and taste tend to vary based on the size and ripeness of your bananas and the variety of your add-ins. Most often I will bake a loaf, slice it, and then freeze it for easy weekday breakfasts.
Hubs loves this as a PB&J and it is also a nice side to a veggie omelet.
It is only recently that I have started making muffins. We bring 2 dozen to church each Sunday to give church goers a healthy alternative to donuts. It was a kind of a pain until I started using a silicone muffin pan. It's amazing what a difference the right equipment makes!
We like to do both muffins and bread. Muffins are a great grab-and-go snack or brunch-friendly take-a-long but the bread is our favorite because it stays so moist. And, I have been known to just eat the tops of the muffins. Not cool.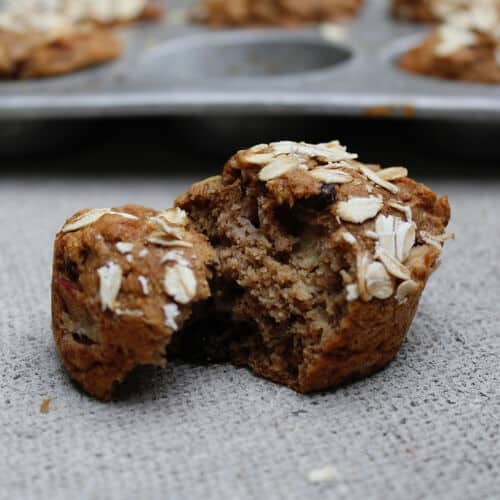 In case you are wondering why there are three empty muffins tins in the picture above…
This happened…
Twice.
Crowd-Pleasing, No Sugar Added, Whole Wheat Banana Bread & Muffins
Recipe type: Baked Good
Ingredients
1½ cups whole wheat flour
1 teaspoon baking powder
1 teaspoon baking soda
2 teaspoons cinnamon
4 extra-large, ripe bananas, mashed (about 2 heaping cups)
1 egg
2 tablespoons coconut oil, melted
½ cup add-ins (optional, see below)
ADD-INS (optional)
Diced apple
Raisins
Shredded carrots
Dried cranberries
Chopped walnuts
Chopped pecans
Pumpkin seeds
Sunflower seeds
Instructions
Heat oven to 350 degrees.
In a medium-sized bowl mix together dry flour, baking soda, baking powder, and cinnamon.
In a large bowl mix together banana, egg, and oil.
Add dry ingredients to wet ingredients and stir just until thoroughly mixed.
Add in mix-ins.
Spray a loaf pan or muffin tin generously. Unless you are using a silicone pan!
Bake loaf for 45-60 minutes or muffins for 20-25 minutes or until a toothpick inserted into the center comes out clean.
Allow to cool in the pan for 10 minutes and then cool on a rack.
Notes
As you notice, the cooking times vary greatly. This will depend on the size of your bananas and the type and quantity of your mix-ins. Just keep an eye on it, watching for the dough to pull away from the sides of the muffin pan. A little bit undercooked us better than dry.
Brandice Lardner is a Certified Personal Trainer, Nutrition Coach, Author, Amazon #1 Best Selling Author, and Jesus Girl whose mission in life is to help women ditch the diet mentality and find peace with food and their bodies so that they are better equipped to do the great things God has called them to do.