Jump to this episode's show notes now.
Have you ever heard yourself or someone else say they wanted to lose weight to "feel better about themselves"?
It kind of makes sense. And, it's often the thing we say if we don't want to be too weight-loss oriented. "I don't want to lose weight to be hot or sexy," we say. But we do want to lose weight to be healthy and to feel good about ourselves. That— feels like it's okay.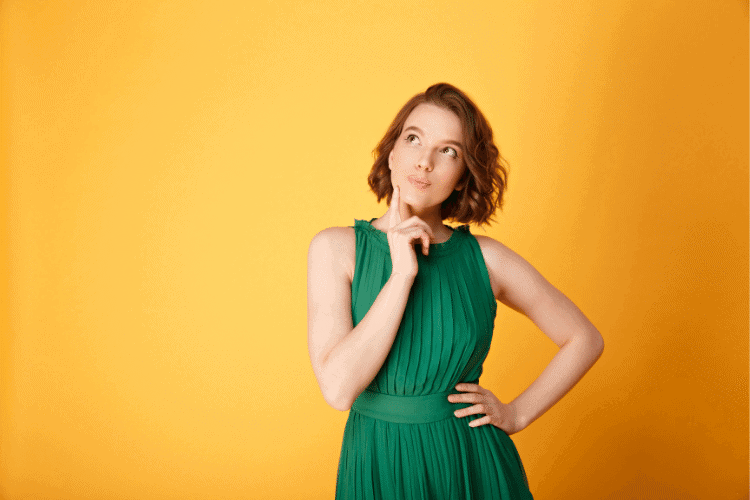 Challenging Our Weight-Loss Ideals
Today I want to challenge that idea a bit…and, I'm challenging it for you and for me, too, because this is a thought process that I often get caught up in myself. I do want to feel good about myself, and the way that I often want to do that is by losing weight.
But, wait a minute! Who says weight loss is equated with being valuable or being worthy of love?
It's definitely not God.
Nowhere in the Bible does it say "thou shalt be a size two" or a size six or a size 10. Nowhere in the Bible does it say "thou shalt exercise 60 minutes a week and get thy heart rate to 140 BPM." Nope. That's based on human commands and teachings.
Now, it's great to know a certain amount of exercise or a certain type of food can help us be healthy and fit for service. But we absolutely cannot measure our worth, our value, or our worthiness based on these things; and losing weight is not to be the reason that a Christian woman should feel good about herself.
Who You Are
You are a Jesus girl.
You are a child of God.
Your value is found not in your size or your shape, or a number on the scale, but in the fact that God sent His only son to die on the cross for you.
To feel good about yourself is more about the state of your heart than an external appearance. What is going on in your heart that would not allow you to feel worthy of love or admiration?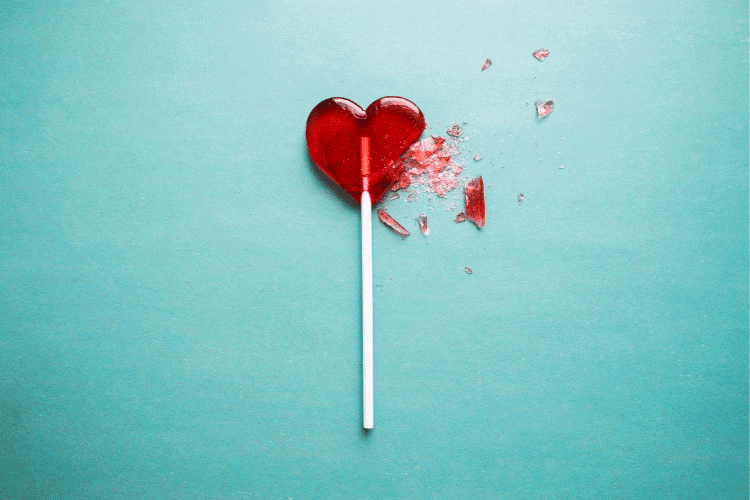 And, where are you seeking that love from?
If we're waiting for admiration and for a stamp of approval from the world around us, we're never going to get there.
No matter how "perfect" your body is, someone somewhere will say that you're too thin or too fat, your hair is too this, and your lips are too that. People are always going to find something to criticize, yourself included.
To chase "ideal" is like a dog chasing its tail. You're never going to reach the place of rest that you're hoping to find.
Why Even Christian Women Seek Weight Loss
Let's examine–what are we using as our measurement for feeling good about ourselves.?
Sometimes the way to feel better about yourself is to address your thoughts, feelings, and behaviors around the eating…
How much better do you feel after you make a God-glorifying food choice?
It is 2:00 in the afternoon and you're tired. In fact, you're exhausted. You've been up since dark thirty AM and it feels like it's 6:00 pm. You could use a little boost," just a little taste" of something sweet to get you going. You remember there are some cookies in the cupboard and, ooh, some ice cream in the freezer.

But, you know in your heart of hearts that it's not what's best for you. An ice cream cone eaten with your family on a Sunday afternoon is enjoyable and it's an experience that you want to partake in, but scraping ice cream out of the pint half a teaspoon at a time is not glorifying God.

When you decide to pass on the behavior simply because it's not glorifying to God, rather than focusing on weight loss, that's when you begin to find peace within yourself. You see, your spirit becomes less critical when you're focused on the Lord and doing things to honor Him.
That extra bit of weight may still be bothersome. But, when we pull ourselves back to the thing that matters the most, what God says about us, we can let go of the shame that tags along with those worldly values.
As it is written, "Let the one who boasts, boast in the Lord."

1 Corinthians 1:31 ESV
Our boasting is not to be in our size and shape or how well we eat.
Boasting In Myself
I used to walk through the grocery store with a cart piled full of vegetables and fat-free yogurt. I felt so proud that I'd hope other shoppers would look at me and see what great healthy choices I made.
Me, me, me.
All that boasting in myself. But, what I needed to do was boast in the Lord.
"God, thank you for providing me with a desire to eat healthy food. Thank you that my food choices do not define me. Just making healthy choices doesn't earn your love, making unhealthy choices doesn't make me bad."
It's not your completion of a 5K. It's the fact that you pushed through the hard things and you did it for God and… He saw you through. It's a completely different focus and it's a completely different outcome.
Nevertheless, do not rejoice in this, that the spirits are subject to you, but rejoice that your names are written in heaven."

Luke 10:20 ESV
Jesus had sent out 72 of his followers to share His Good News. When they returned, they shared amazing accounts of their journeys. They were casting out demons and healing the sick and they were crazy excited about it.
Even in all these great achievements, Christ reminded them that the greatest celebration is that their names were written in the Lamb's Book of Life.
It's not: "Yay, I've lost weight! Now I'm getting closer to being happy."
It's: "Wow, I'm going to boast in the fact that I have salvation, regardless of my size or my shape."
But What If I Want To Lose Weight To Look "Good"?
Now is this intended to make you feel bad about wanting to lose weight or desiring to look good? (But, whose "good" is it?)
No, I think that's something God has put within us. But when our happiness hinges upon our achieving it, that's when it becomes a problem.
When we're holding worldly ideals up like a carrot, we're idolizing the outcome and it's never going to lead to what we're hoping for.
What do we do with this? What do we do as a Christian woman who wants to lose weight and wants to be attractive, but yet she wants to glorify God…
1. We just submit our weight loss to God.
We say, "Lord, this is my heart. This is my desire. What do you think about it? What is important to you?"
We examine if we're idolizing food or the outcome (because sometimes when we go on a diet or restrict food, we can start to idolize the food because it's been kept off limits).
2. We take our desire for weight loss to the Lord.
We examine our hearts and see what's really going on.
Then we submit to Him… "All right, Heavenly Father, how can I do this in a way that's going to glorify you?" He will give you direction.
And, let me tell you the coolest thing ever–eating in a way that glorifies God looks a lot like a diet. Yep, it actually does!
Imagine you're eating in a way that honors who He is and what He has done for your life. Chances are you're probably going to eat with self-control. You're probably going to eat mostly nourishing foods, most of the time. And, you're probably going to go out to an event with your family or a celebration and have a piece of wedding cake because that glorifies God, too.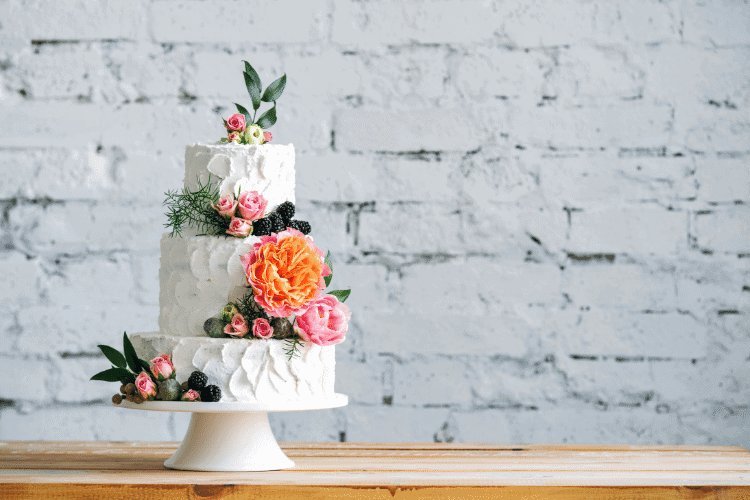 Balance and peace are found within that continuum. Don't feel like you're giving up your goals by putting God first. Actually, you're going to achieve them in a much more sustainable way.
Your Weight-Loss Testimony for Christ
The reason why I think the enemy keeps this away from us is that our testimony is going to be one that points people to God. When you lose weight and you "get healthy," the "Oh, how did you do it? Tell me all about it(s)" come flying like hotcakes.
Well, my sister, when they ask, I bet you're going to tell them–it was all Him. I sought the Lord and He answered me. He pulled me out of the miry clay. He set my feet upon a rock.
That is the ultimate testimony that we can share.
So, you want to look better? Great. Let's reflect the light of our Savior and draw others onto Him.
How could you apply this to your life? Do you see an application to what you do on a daily basis re: your motives? Share your thoughts in the comment section below.
I'd love to hear it! But, first things, keep an eye out for condemnation. Condemnation makes you feel really yucky. You want to run away like a dog with its tail between its legs. It separates you from God.
Rather, listen for the conviction of the Holy Spirit.
Now, I'll be honest. Conviction stings a little bit (or a lot sometimes). But, it is followed by peace and joy, as we know we're locking arms with the Holy Spirit to do something really powerful for God.
Podcast episode show notes
"I want to lose weight to feel better about myself." It sounds harmless and makes sense, right? But is it?
As a Christian woman, is your weight the reason you should feel good about yourself? That sure isn't what God's Word says. So let's challenge this idea today and talk about what you should focus on instead.
Links mentioned:
You may also love:
Get a FREEBIE:
Rather watch? Catch the video on YouTube.
Brandice Lardner is a Certified Personal Trainer, Nutrition Coach, Amazon #1 Best Selling Author, Homeschool Mom, and Jesus Girl whose mission in life is to help women ditch the diet mentality and find peace with food and their bodies so that they are better equipped to do the great things God has called them to do.