You're a Christian and you know that God has guidance for every area of your life, including how you eat and move. But, you're struggling to put the pieces together. It's in your head, getting in your heart, but not quite in your actions yet. Where do faith and food meet?
In the Bible, we're admonished to "have self-control," but then we struggle to moderate our food choices. We're told to "glorify God in our bodies" and to become a "living sacrifice," but then we eat as if we're trying for the opposite outcome.

It's frustrating. I get it.
If you haven't noticed…a rocky relationship with food can have a negative effect on your spiritual health. While nothing can separate you from the love of God, the struggle can cause some hesitation on your part. Your head is down, not up.
Thankfully, the opposite is also true.
Sorting out our food challenges can actually draw us closer to God as we ask Him for guidance, seek Him for help, and praise Him in celebration.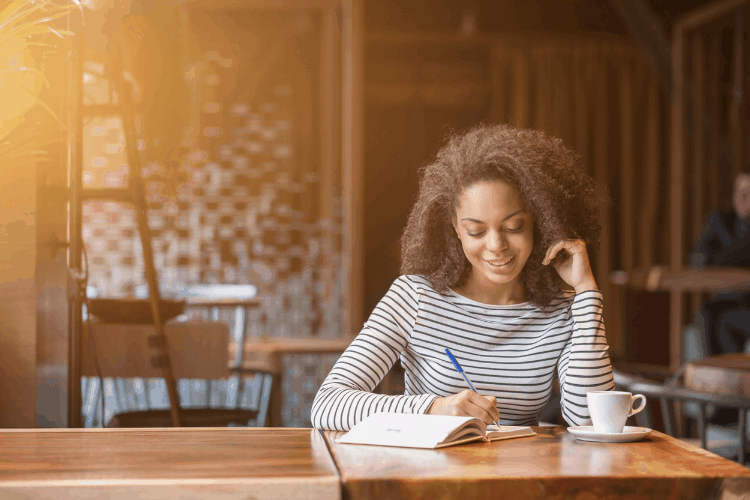 How To Put Your Faith Into Your Food
Your head is nodding and your eyes are met with the hope of change, but you're not sure what to do next. That's where food meets faith.
To get you started on your Faith and Food journey, I've compiled a few suggestions and resources for you. Just make your way down the list and enjoy this refreshing perspective!
1. Prioritize Prayer.
If you have struggled to make changes in your health and fitness, there is a reason why–> You can't do this on your own. And, that's great news! You join the likes of the Apostle Paul who said:
But he said to me, "My grace is sufficient for you, for my power is made perfect in weakness." Therefore I will boast all the more gladly of my weaknesses, so that the power of Christ may rest upon me.

2 Corinthians 12:9 (ESV)
Our insufficiencies are intended to point us to Christ. To find His strength, become more purposeful in praying about this area of your life.
What To Do:
Read How to Pray More Intentionally About Food & Fitness and look for a pocket of time each day you can pray about your desire to glorify God in your eating.
2. Study the Scriptures.
Whether you currently have a routine Bible Study time or not, proactively seeking God's direction for your food choices through His Word is an incredible practice to start.
Use a Bible concordance or Google Bible verses on topics specific to your diet and exercise. Then dig into those passages looking for a personal application. Examples would be self-control, discipline, endurance, and grace.
What To Do:
Read How to Study the Bible so You Can Be Healthy and download the free Bible Study template.
You may also want to read the following blog posts for additional Scripture study ideas for faith and food:
I've also created a Scripture Study to help you do just that! Chew the Word is a 30-day Bible Study that will walk you through "how to apply your faith to your food choices."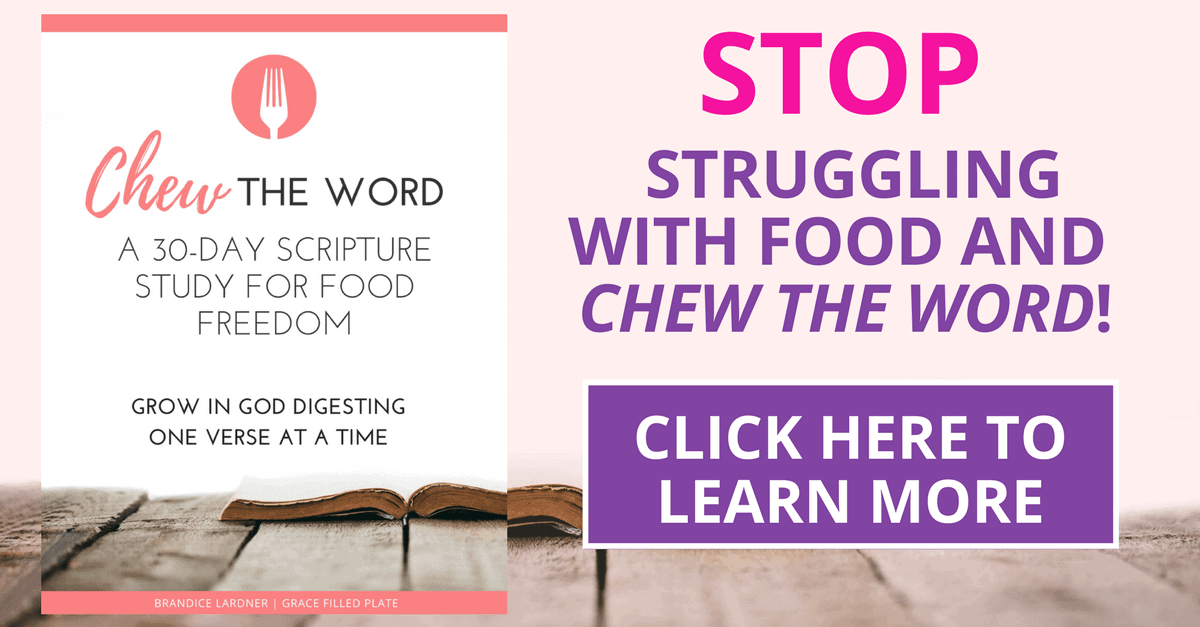 3. Read Some More.
Here are 3 of my favorite blog posts to support your Food Meets Faith journey. Skim the titles and see what resonates. No need to read them all, but I suggest reading those that the Holy Spirit prompts.
As you review the blog content, beware of creating a massive mental to-do list for yourself that overwhelms. You don't have to do it ALL, you just need to do something…
4. Start Somewhere.
Diets and food plans breed "diet perfectionism" that tells us to "go big or go home." That all-or-nothing thinking robs us of the progress that God has in store. While salvation is instantaneous, getting better at food and fitness takes t-i-m-e.
Prayerfully look for ONE small change you could make for your well-being.
What To Do:
If you are sick of thinking about food, be sure to download 5 Strategies to Improve Your Diet Without Changing What You Eat. This e-book will give you several tweaks to make that will enhance your physical and spiritual health without any food stress.
Moving Upward with Faith and Food
It is possible to live a life where " So, whether you eat or drink, or whatever you do, do all to the glory of God" (1 Corinthians 10:31 ESV), but ONLY by God's grace. This grace gives you room to change, as He does not demand perfect adherence but asks for a warm relationship.
By bringing faith and food together, you can begin to walk in more self-control as you learn how God would have you glorify Him in your body.
Brandice Lardner is a Certified Personal Trainer, Nutrition Coach, Amazon #1 Best Selling Author, Homeschool Mom, and Jesus Girl whose mission in life is to help women ditch the diet mentality and find peace with food and their bodies so that they are better equipped to do the great things God has called them to do.