Jump to this episode's show notes now.
What is a Biblical diet? Is it eating manna like the Israelites or fish and bread like Jesus? OR, is it about the heart? In this post, you will learn how to apply the truths of the new covenant to how you eat. It will transform how you see diets!
As I cracked open the crisp, new pages of that diet book, I felt a surge of excitement fill my chest. Immediately, I flipped back to the approved food list. Anxious to see what I "could" and "couldn't" eat–that excitement dropped 18 inches to my stomach where it landed like a rock.
"All of the food I can't eat…"
If you come from a dieting past like I do, the idea of "having" to discipline your food choices may be old news. But, no matter how many plans you try or books you buy, the idea of restriction still makes you want to eat ALL. the. food.
If you can relate, this post is for you.
Over the years I have come to see diets for what they really are. Whether you package the plan as "clean eating" or a Biblical eating plan, it's all the same– Even a Bible Diet food list can become our "law" and the law cannot change our hearts. Only God, in His grace, can.
I believe that your eyes will be opened to why you still continue to struggle with food and overcoming overeating, even though you are trying hard to do better.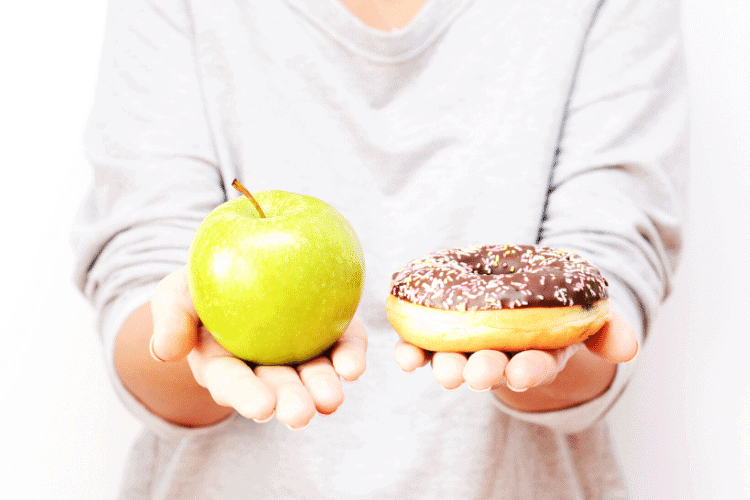 What Does the Old Testament Say About Diets?
If you are unfamiliar with the Bible, there are a few points I would like to familiarize you with for the purpose of this post.
The Bible is broken into two parts: the Old Testament and the New Testament. The Old Testament is what would be referred to as The Law. It includes the Ten Commandments and the rules and rituals that Jewish traditions are built upon. These events occurred before Christ was born.
The New Testament documents the birth, life, and death of Christ, and the spread of Christianity that followed.
When Christ came, it is said that he "fulfilled" the law. This means that he lived a perfect life. He abided by all of the Old Testament laws, but then was killed without reason. Because of this unjust death and His resurrection, those laws were no longer the way in which we found favor in God's eyes. Now it is found through Christ.
So, those who believe IN Christ and live FOR Him and because of Him are no longer obligated to meet the standards of all those Old Testament laws. BUT, we choose to live in such a way that pleases Him BECAUSE of the perfect life He lived on our behalf.
We find ourselves doing the very things that we "should" do, not because we "have" to, but because we want to. Before our actions were external– Like the kid who cleans his room just so that he can go out and play. He's doing it but he's not happy about it.
Now, we let thankfulness and love move our hands and feet toward godly action.
What Does This Have to Do With a Biblical Diet?
I equate The Law to a diet.
When we feel like we "have" to eat this food or we "can't" eat that food, our sheer willpower can only take us so far. We may be able to follow those rules for a while, but just like the kid who cleaned his room out of obligation- when he went away to college, he chose to live in utter filth.
The change of scenery revealed that his heart was never all-in. This is why you may try a variety of diets and fail repeatedly.
You are trying to clean up the outside without addressing the heart.
What then shall we say? That the law is sin? By no means! Yet if it had not been for the law, I would not have known sin. For I would not have known what it is to covet if the law had not said, "You shall not covet."

Romans 7:7 (ESV)
Diets do not "fix" our tendencies to eat outside of hunger or to eat to satisfy our craving or emotions, but they do reveal them. Even a "Bible diet."
Is a Bible Diet Plan the Answer?
In this case, diets are not all bad and there is no bad food. For example, if we are unable to stick with a healthy eating plan, then it's a decent clue that there are some deeper challenges living beneath the surface.
Because of this, we can see our unsuccessful attempts, not as personal failures, but as indicators that we are trying to solve the wrong problem.
Such was the transition from the Old Testament law to the New Testament message of grace. The Law simply points out what we cannot do on our own (keep those laws) and directs us to only that which can-God's grace.
Even prior to the law coming on the scene after Adam and Eve ate the forbidden fruit in the Garden of Eden, we see God putting "law" into practice. This is because we have free will for a purpose; our choices reveal our hearts.
How to Make Choices When You're On a Healthy Eating Plan
Freedom of choice is an important concept to grasp here.
In life, it can feel as though we outsource our ability to choose. We moan that we "have" to go to work, whine that we "must" stop at every pointless stop sign, and grumble that we "should" eat more vegetables.
But, if we take a step back, we can actually see that we have a TON of choice in the matter. We can choose not to go to work, not to stop at the sign, and eat only french fries for vegetables.
We are free to make any choice but we also choose the consequences that follow-getting fired, getting a ticket, and having poor health.
I want to encourage you to embrace the freedom of choice in your food journey. If you decide to follow a particular diet plan (even a Biblical diet plan), do so with the full realization that YOU are the one who made the choice to start.
No one can make you eat food you don't want to eat and no one can keep you from eating the foods you desire.
We live in a world that provides us with 24/7 access to all types of food, all the time, and you can make the choice to eat it–whenever you want. You have keys and money– No one is stopping you.
Make It Your Food Choice
"Choice" was not an idea that I used to embrace. I felt trapped by diets and rules about what I "could" and "couldn't" eat. This backfired on me, big time.
I can recall a specific time that I was tempted to binge on a McDonald's McFlurry. Now, if I wanted a planned sweet treat in a controlled and moderate way, that would have been a different story, but here I wanted ALL the McFlurries.
As I drove down the road I passed one McDonald's after another, each time holding on to the steering wheel as if it were the last life preserver on a sinking ship. Do you realize how many golden arches there are along a 10-mile drive in Pinellas County? It's a lot.
Finally, I gave myself complete and total permission to stop at the next Mickey D's. Clearly, this white-knuckling thing wasn't going very well, so how about a different strategy?
I told myself that it was 100% ok to stop. No one will keep me from eating McFlurries. Not today, tomorrow, or next month.
I even used a therapy technique called amplified reflection, assuring myself that I could not only eat a McFlurry today, but I could eat 10. Then I could do the same tomorrow and the day after that. I ALWAYS have the choice to overeat, to eat low-nutrition foods, to binge, etc.
Amplified reflection: A strategy that is to reflect the client's statement in an exaggerated form—to state it in a more extreme way but without sarcasm. This can move the client toward positive change rather than resistance.
Connect With Your True Cravings
You see, when we step away from allowing a diet to be our dictator, we can connect with what we truly want. I didn't want a McFlurry, I just wanted the freedom to eat whatever I wanted.
You and I, we have that kind of freedom every. single. day.
"All things are lawful," but not all things are helpful. "All things are lawful," but not all things build up.

i Corinthians 10:23 (ESV)
I completely understand that the thought of total freedom can be (really!) scary, and I believe that is why many of us seek "protection" in a diet. A diet can feel like a safe place to reel in our ravenous souls. We don't trust ourselves around food.
I get it. If you are anything like me, you've broken that trust many times. But there is one missing link, the link that empowers us to say "no" to unhealthy choices and "yes" to living a godly life. That link to Biblical health is LOVE.
How Love Compels Our Biblical Diet
If you were as consistent with your nutrition and exercise as you were with caring for your loved ones, do you think you'd have reached your goals by now?
While people are much more valuable than blueberries and biceps, when love is involved in tough tasks, they get easier.
We love because he first loved us.

i John 4:19 (ESV)
What if you made food choices out of love? "Love of what?", you ask. Our love for God is the first thought that comes to mind. That love is a powerful motivator…
I bet you'd agree that there are so, so many reasons to be thankful to God, and the stewardship of our bodies is one way we can express that gratitude.
He who did not spare his own Son but gave him up for us all, how will he not also with him graciously give us all things?

romans 8:32 (ESV)
But, wait, there's more! LOVE casts a W-I-D-E net.
Healthy Food Choices Made With Biblical Love
If our food choices are made through the lens of love, we can expect to make some pretty awesome decisions.
Biblical Love of:
Our well-being. Taking care of yourself does not have to be self-centered. There is a big difference between stressing over 1% body fat and wanting to be energetic, healthy, strong, and able to accomplish the hopes and dreams God has laid upon your heart.
Our bodies. God calls our bodies His temple. Are we treating our bodies like something of value? Things we love and value, we put forth the extra effort to care for them properly.
Our families. Are you more loving when you feel well? Yeah, me too. Your family wants you to feel well, trust me!
Our friends. We can be better friends when we have the energy to invest in friendships.
Our calling. Wherever you feel called in your life, for the love of that calling, fuel yourself well, get strong, do the hard things.
Do you see what happens when we let go of other people's rules about what our food choices "should" look like?
When we set aside the "should" and connect with our "why" for making the food choices we want to (truly, deep in our heart want to), we will find the balance and health we crave.
Outside rules stay outside, while inside motivations change hearts and lives.
The Road to Truly Eating Biblically
What does the Bible say about food we should not eat?
If you have done your share of diets, it's quite likely that you are plagued with outside-in, rules-based eating baggage. Diets tell us what to do but they don't address our hearts.
Just as the Bible is filled with grace, so are our food choices. It's the ultimate Biblical diet plan!
You and I have the room to make decisions based on our wants, but diets have disconnected us from why we started them in the first place.
By embracing our freedom of choice and connecting with our loving motivations, we can make healthy changes that stick and stick with habits that change–our hearts. Are you on this journey with me?
Take-Home Points
Diets don't address the heart and that's why they so often fail.
Freedom of choice is a powerful concept to grasp if you are struggling to stick with a healthy eating plan.
What To Do
You are starting to see why diets don't work and you're unsettled…you want MORE for your life than a one-size-fits-all-food plan that makes you feel like a failure. So, what's next?
Here are 3 steps to get you started:
Pay attention to your self-talk around what and how you eat. Do you hear the words "can't", "should", "have to" around your food choices? If you notice these unhelpful thought patterns, start by reminding yourself about the freedom of choice.
Renew your mind to your new truths. Check out Chew the Word, a 30-day Printable Scripture Study that will immerse your health and fitness goals with the Word of God.
Practice, fall, get up, repeat. You won't undo years or even decades of dieting drama overnight. So, give yourself plenty of grace as you try, mess up, and try again. This is the absolute BEST you can do.
Podcast episode show notes
You may be surprised by what the Bible has to say about diets. And we're not talking about what you aren't allowed to eat or how to prepare your food the right way.
Today, we're relating diets and dieting to Old Testament law and New Testament grace. One is all about outward appearance, while the other is all about your heart.
But how do you walk in freedom and grace in the way that you eat? How do you escape the prison of always trying to make up for your failures? And how do you walk in the light of Christ's righteousness and grace with your eating?
Let's dig in and find out.
Links mentioned:
You may also love:
Get a FREEBIE:
Rather watch? Catch the video on YouTube.
Brandice Lardner is a Certified Personal Trainer, Nutrition Coach, Amazon #1 Best Selling Author, Homeschool Mom, and Jesus Girl whose mission in life is to help women ditch the diet mentality and find peace with food and their bodies so that they are better equipped to do the great things God has called them to do.